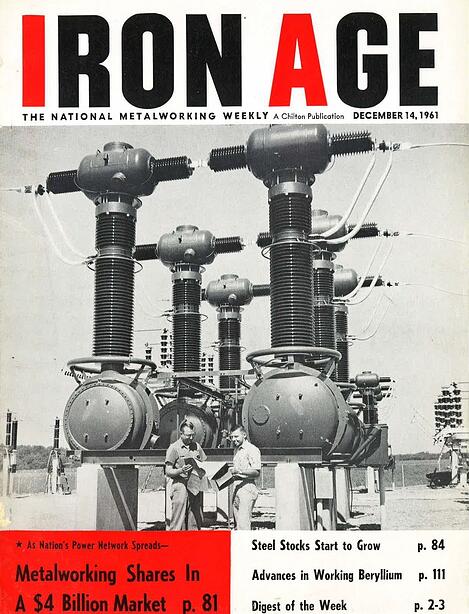 One of the things we're most proud of at American Roll Form is our storied tradition of over 50 years of manufacturing excellence. As President Rob Touzalin was looking through his office closet this week, he found a trade journal that goes all the way back to the start of the organization and points at the value oriented high quality solutions we still provide today.
The picture above is of the cover of the December 14th, 1961 Iron Age Magazine. The story, posted below, gives a great overview of the history of the organization with a picture of our first machine.
ARF was founded in 1960 by former tube salesmen James Tavenner and tooling superintendent George Hascher when the two purchased a 10 year old Tishken roll forming mill, some used welding equipment, and a secondhand lift truck. After beefing up the machinery to handle more complex shapes, the two started making parts for OEMs in a variety of industries, including auto parts, toys, building products, and housewares.
The "infant firm" grew incredibly quickly, experiencing over 600% growth in the first 18 months of operation and purchasing several additional used machines that solidified the business and allowed Mr. Tavenner to add staff. The business was originally located in Cleveland, Ohio where it remained for several years before Mr. Tavenner purchased the facility and assets of Alden Manufacturing in Painesville and moved the growing business to the current Walnut Street to allow for continued expansion.
This was such an exciting find for the ARF team and got us all wondering what our successors will think when they find our April 2011 Green Manufacturer Cover Story. Here's hoping they're as proud as we are of the foundations of their success and amazed at how far they've come.