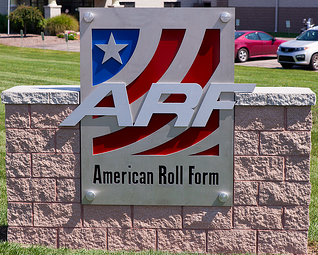 Have you been to our Callendar Blvd headquarters recently? If not, you've missed out on seeing one of the best new business signs in the country according to Sign Builder Illustrated.
ARF and its new custom headquarters sign are featured in the January 2013 issue of the magazine with a 4 page spread that talks about the process of creating the sign from concept to installation. Click here to read the full article.
To build the one-of-a-kind sign, ARF partnered with Agile Sign of Eastlake Ohio. ARF started by supplying Agile with its logo and asked the shop to build a design from it. Using CorelDRAW®, Agile drafted a design and sent it to Ron Beech, owner at FabTech Ohio in Willoughby, Ohio, who finalized the design and handled the fabrication.
The sign letters and panels were fabricated from 5/8-inch aluminum to achieve an industrial appearance. Because of the material thickness and the precision needed, all of the pieces were cut out using a CNC water-jetting machine, which achieved the sharp, crisp corners and lines. Portions of the sign that would be colored and placed between the main panel and an aluminum backing piece were cut out from 1/8-inch aluminum. They were then powder-coated and painted red, blue, and black. All of the pieces were fastened together using mechanical stainless steel screws.
When the sign was completed and sent back to Agile for installation, it stood sixty-two inches tall and four feet wide.
Aside from the fabrication, there is another unique element about this sign—the solar panels. With ARF's work in the solar industry, we insisted that the sign be solar powered. The solar panels, located next to the sign as a part of the whole visual package, illuminate an LED floodlight for up to seven days in cloudiness.
Aside from the obvious green benefit, the solar panels also help ARF save some green. By not having to dig trenches for power lines from the building and not having to supply power to the sign, the solar system offers an ROI that pays off in less than a year.
ARF would like to thank the team at Agile Sign for all of their great work on this project. We're all very happy with how it turned out and invite you out to Painesville to check it out in person.