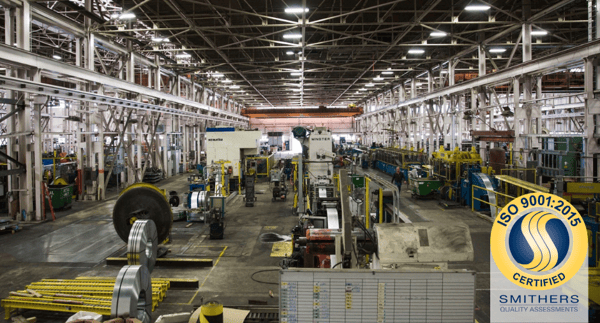 Hynes Industries, a leading North American precision-engineered custom roll forming, metal fabricating and strip/wire manufacturer with operations in Ohio and Indiana, announces its successful completion of the ISO 9001:2015 certification process.
ISO 9001 is the most widely accepted international standard for company-wide quality management systems (QMS). This certification is awarded to companies that prioritize constant improvement and delivery of exceptional products and services.
The latest standard, ISO 9001:2015, emphasizes principles such as a strong customer focus, a process-centric approach to quality and continuous improvement.
Hynes Industries has been ISO certified for 13 years and recently was certified and upgraded to the 2015 standard as a result of the following improvements:
Conducted a series of internal audits and management reviews.
Defined and documented all business processes and supporting work instructions.
Identified key issues and required efforts stemming from a Quality Management System review.
Passed external audit performed by Smithers Quality Assessments, an accredited quality and environmental management systems certification body.
Provided proper education and training for all employees impacted by the ISO certification.
According to Hynes Industries' President and CEO Rick Organ, upgrading to the 2015 standard was a natural next step in the company's long-standing focus on quality.
"Our Business Management System is the foundation of our business, and I am proud of the effort our team put forward to prepare for the transition to the new ISO standard." Organ said, "We redesigned, documented and trained our team on each process and have laid the foundation to best serve our valued customers."
For more than 90 years, Hynes has provided innovative, customized metal solutions to its customers with a focus on product quality, customer service and delivery performance.