YOUNGSTOWN, Ohio, October 26, 2022 — Hynes Industries is pleased to announce that it has received a 2022 Platinum Supplier Award from North America's largest producer of semi-trailers, Wabash.

Wabash, a provider of connected solutions for the transportation, logistics and distribution industries, recognizes its top suppliers for their supply chain management and expertise each year. When choosing the winners, Wabash also takes into consideration innovation, quality, delivery, cost and service.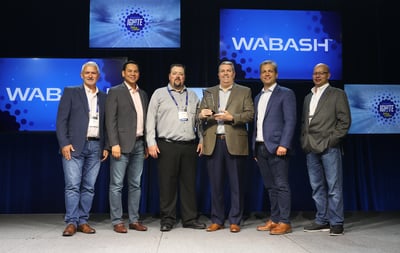 Wabash hosted its awards ceremony on September 26 during its new Ignite business conference in Charlotte, North Carolina, where it recognized a total of 34 award winners. Twenty-eight companies received Platinum Supplier Awards, one received the Pinnacle Award and five received Distinguished Supplier Awards.

"This truly is a team award, and one to be extremely proud of," said Hynes Chief Procurement Officer Mike Giambattista. "Our team at Hynes puts forth an incredible amount of energy and effort each and every day to ensure we meet our customers' needs. It's truly rewarding to be recognized for our performance by one of our largest customers—one that we work with on a daily basis."

According to Wabash, those who received the Platinum Awards demonstrated an ongoing commitment to excellence and logistics optimization, both of which have supported its growth and innovation efforts.

"It's an honor to once again receive this prestigious award," said Hynes President & CEO Rick Organ. "Our team at Hynes works tirelessly to ensure our customers have a seamless experience when working with us, no matter the project or application. We're also grateful for partners like Wabash, who continue to trust us to help them meet their business goals."

Hynes previously won this award in 2010, 2011, 2012, 2013 and 2015. For nearly 100 years, Hynes Industries has produced precision-engineered custom roll form metal solutions with an unyielding commitment to quality, service and performance.