No Hidden Fees, Just Real Value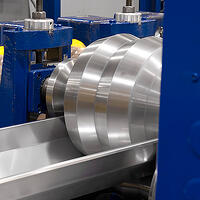 Escalating tooling costs can have a significant impact on your business's bottom line. The cost of tooling often determines whether or not that section can be roll formed.

Partial tooling investment ties up capital on your supplier's shop floor, and often requires additional payment or fees to manufacture with another supplier or in-house.

Hynes Industries offers a Tooling Amortization Program that allows you to amortize a project's tooling costs over time and volume requirements. This way, you work toward full ownership of your investment.