American Roll Form Products is proud to continue our tradition of adopting a local family for Christmas. With the help of St. Mary's Paniesville and St. Vincent De Paul, we were connected with local family of 8 that needed a little boost from Santa this Christmas.
The parents, with 6 kids ranging from 2 years old to high school, provided a list of ideas for the kids and the ARF staff took it from there. A Christmas tree in the break room of each facility was filled with tags shaped like children's mittens that suggested a present and the age of the intended recipient. There was such a rush to help that new mittens had to be added so everyone who wanted to help had the chance to do so!
All in all, over 60 members of the ARF team contributed to the effort. Presents and donations were delivered to the plant managers and a few extra talented "wrapping elves" made sure that the outside of the presents were just as impressive as the contents. There were several presents for each of the kids and a few for the whole family to enjoy together. Here's a picture of the stockpile of presents that were collected: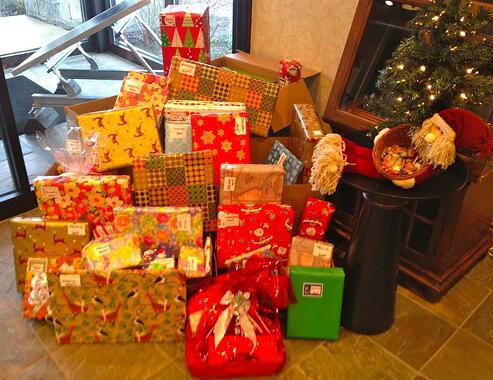 The parents came to the Callendar facility on the morning of 12/15 to pick up the gifts and meet with several representatives of the ARF team, including CFO Jeff Laturell, VP Phil Misch, Director of Operations James Martin, Procurement Specialist Dotty Bertone, and Administrative Assistant Kathy Traxler.
The mother of the family was overheard saying "This means so much – you guys really made Christmas possible for my kids."
VP Phil Misch says this type of charitable endeavor fits right to the culture at ARF: "It's part of who we are as a company – we take care of each other and we take care of those in the area that need a little help. It was so great to see that everyone was so willing to dig deep to pass along a bit of what they have to help others. That selfless attitude is one of the best parts of being a part of the ARF family."
So, from the ARF family to your family, we wish you all a very Merry Christmas and the Happiest of New Years!