YOUNGSTOWN, Ohio, May 2, 2022 — Hynes Industries was pleased to have hosted Ohio Lt. Gov. Jon Husted at its Youngstown headquarters earlier this month.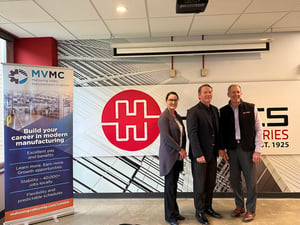 On April 18, Lt. Gov. Husted toured Hynes' operations, where he was able to see the company's mills in action and see the results of the state's TechCred grant program.

During his visit, Hynes hosted a roundtable, where Lt. Gov. Husted and a number of other visitors, including Mahoning Valley Manufacturers Coalition Executive Director Jessica Borza, discussed the program, from how Hynes has implemented the funding to how it has benefited the company's everyday operations.

Hynes has previously received the TechCred grant, which aims to enhance the skills of Ohio workers through technology-focused training programs, in 2020. Since then, Hynes has had 76 new or existing employees participate, both learning new skills and sharpening existing ones. Lt. Gov. Husted, along with the Office of Workforce Transformation, launched the program in October 2019.
The program has allowed Hynes to both save on training costs and enhance its employees' skill sets.

"It's been a tremendous benefit to the company," said Hynes President and CEO Rick Organ. "Our people have historically learned from others here. We felt they needed to be trained on the same platform. Everyone learned a common way and developed a common language. They can communicate with one another as a result of that. We're investing in their future and our future at the same time," he said. "When we hire people we tell them we're not offering you a job, we're offering you a career here and we mean that."

As a part of his visit to the Mahoning Valley, Lt. Gov. Husted also stopped by Youngstown State University, where he talked to students about the future of Ohio as a high-tech manufacturing hub.