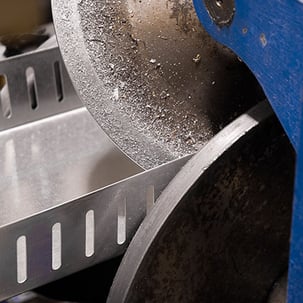 Should you press brake or roll form? It's a big decision with multiple factors to consider. Ultimately, the decision comes down to what fabrication method will yield the desired quality for the lowest overall cost.
This post aims to help you make the right decision for your next project. We've listed four factors to consider when making the decision between press braking and roll forming:
Design
Because press braking is a one-hit process, more complex cross sections take longer to produce. Only a certain number of bends can be made when press braking, and each requires a separate hit. This slows down production, adding unnecessary time, labor and costs.
Roll forming progressively bends sheet metal into the desired shape. It forms complex linear shapes in a single pass, reducing tooling costs and production time. This way, multiple steps can be eliminated before and during the fabrication process.
Length
Similar to stamping, press braking cannot manufacture long parts. Longer parts require secondary operations to join several smaller press braked sections. This adds in costs via fasteners and labor, and increases product weight.
The biggest difference between roll forming and press braking is how material is fed. Press braking material has to be sheeted, slit and cut to length before inserting in the press brake, which can add costs. Roll forming material is coiled, and does not require additional costs associated with slitting or cutting.
Slit coil can be fed directly into any roll form line. Long parts can be made without fasteners, and less scrap is lost to drop off. As a result, production is more efficient, less wasteful and more cost-effective.
Material
Material selection is another critical factor to consider. It affects cost control and product design. And certain fabrication processes perform best with particular materials.
Both roll forming and press braking can form lighter metals such as light gauge HSLA or structural steel. High-strength material can be difficult to press brake because of the challenge of controlling springback.
In any case, we recommend you opt for durable, light metals. They use less material content, which allows you to drop gauge and maintain structural integrity.
Tooling
To accurately compare total tooling costs and amortization between production processes, first determine volume.
Tooling costs are typically similar between press braking and roll forming, but the exact amount depends on the project.
General rule of thumb: The larger the volume, the lower the per piece tooling cost will be for roll forming. If the run is short, press brake tooling will most likely be less than roll forming. (For more on this subject, read my post, "Understand Your Total Cost of Ownership.")
For your next sourcing decision, weigh each of these four factors carefully. The most important element is to align with a strategic fabrication partner that will help you make the most of your decision.