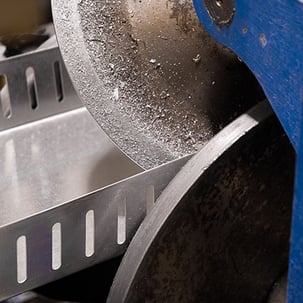 This post was originally published on April 15, 2015.
Should you press brake or roll form? It's a big decision with multiple factors to consider. Ultimately, the decision comes down to what fabrication method will yield the desired quality for the lowest overall cost.
This post aims to help you make the right decision for your next project. We've listed four factors to consider when making the decision between press braking and roll forming.
Metal Fabrication Design
Because press braking is a one-hit process, more complex cross sections take longer to produce. Only a certain number of bends can be made when press braking, and each requires a separate hit. This slows down production, adding unnecessary time, labor and costs.
Roll forming progressively bends sheet metal into the desired shape. It forms complex linear shapes in a single pass, reducing tooling costs and production time. This way, multiple steps can be eliminated before and during the fabrication process.
Hynes offers comprehensive metal fabrication design and engineering expertise in:
Proactive part analysis
Finite element analysis
Engineering consultation
Conceptual design
Design for manufacturing and assembly
Prototyping
To improve efficiency, lead times and quality, contact Hynes for expert roll forming guidance.
Length
Similar to stamping, press braking cannot manufacture long parts. Longer parts require secondary operations to join several smaller press-braked sections. This adds in costs via fasteners and labor, and increases product weight.
The biggest difference between roll forming and press braking is how material is fed. Press braking material has to be sheeted, slit and cut to length before inserting in the press brake, which can add costs.
Slit coil can be fed directly into any roll form line. Long parts can be made without fasteners, and less scrap is produced. As a result, production is more efficient, less wasteful and more cost-effective.
Material Selection
Material selection is another critical factor to consider because it impacts cost control and product design. Also, certain fabrication processes perform best with particular materials.
Let's start with cost control. Material selection can tremendously optimize your fabrication process and save you money. Read "The Business Case for Material Selection" to learn how the right selection could save you more than half a million dollars.
Now, let's explain the types of metal fabrication processes. Both roll forming and press braking can form lighter metals such as light gauge high-strength low-alloy steel (HSLA) or flat-rolled steel. High-strength material can be difficult to press brake because of the challenge of controlling springback, which is the geometric change that occurs at the end of the process when the part is released from the force of the forming tool.
In any case, we recommend you opt for durable, light metals. They use less material content, which allows you to drop gauge and maintain structural integrity.
Tooling Costs and Amortization
Tooling costs are typically similar between press braking and roll forming, but the exact amount depends on the project.
General rule of thumb: The larger the volume, the lower the per piece tooling cost will be for roll forming. If the run is short, press brake tooling will most likely be less than roll forming.
But, before you decide you must understand your total ownership cost. These costs include inventory, material and tooling. For more on this subject, read, "Understand Your Total Cost of Ownership."
Cost amortization allows you to maintain full ownership of your tooling and allows you to avoid hidden fees. Amortization gives you:
Long-term return on investment, meaning you pay once for the tools up front and then you get to keep them to use for other projects.
Production and payment flexibility.
Lower total cost of ownership. Amortization immediately reduces the upfront manufacturing cost and gives you the ability to make small payments, while still maintaining full ownership of the tooling.
You must first determine volume before you can accurately compare total tooling costs and amortization between production processes.
>> Related Read: There's No Such Thing as Free Tooling
For your next sourcing decision, weigh each of these four factors carefully. The most important element is to align with a strategic fabrication partner that will help you make the most of your decision.