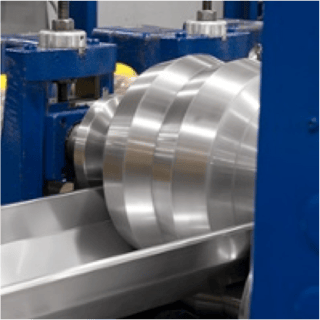 Every business faces the challenge of balancing costs when starting a new fabrication project, and tooling is a major cost consideration.
However, there are a number of ways you can approach tooling arrangements: partial tooling ownership, "free" tooling or amortized tooling. While there are benefits to each option, cost amortization allows you to maintain full ownership of your tooling, which means no hidden fees, just real values.
Need to be convinced? See why amortization is the best choice when it comes to tooling costs.
1. Long-Term Return on Investment
Instead of temporarily paying for a product, just to give it away when your project is complete, amortization gives you the best return on investment. At the end of your production run, the tooling is yours and can be used in future projects.
With other costs to consider, like raw materials, production time, assembly, prototyping and transportation, amortizing tooling costs can help you get up and running with roll forming, faster and with less upfront expenses.
Related: Best Practices for High Volume Production Management
2. Production and Payment Flexibility
Putting a heavy investment on just one piece of an end product can burden the rest of the operation. With tooling cost amortization, you are given the flexibility to pay on your own terms and start production sooner.
Depending on the terms, you can disperse the costs over several months or quarters. The flexibility of pay allows you to put money in other processes without overextending your budget.
3. Lower Total Cost of Ownership
Tooling cost amortization immediately reduces the upfront cost of manufacturing. You have the ability to make small payments and in the end maintain full ownership of the tooling. This is the best cost-per-part option.
Hynes Industries believes in forming long-term partnerships with customers. Owned, custom tooling reinforces the very benefits that roll forming offers: a tailored fabrication solution and quality, cost-effective production.
Related: There's No Such Thing as Free Tooling
Tooling Amortization Program
Hynes Industries offers a Tooling Amortization Program. Interested? Check out what we have to offer.