Your company just shifted its processing operations to roll forming.
Along with many benefits, this shift also welcomes a variety of challenges in scaling inventory management and production. If your company is suddenly producing a higher volume of parts than before, this has a direct impact on:
Cash flow management

Inventory management

Production scheduling

Shipping and delivery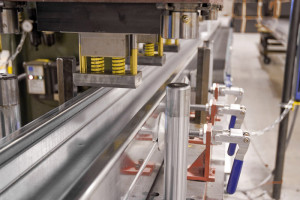 As we've discussed in previous posts, roll forming is well suited for higher volumes because setup and labor costs decrease as production levels increase. As a result, purchasing needs to consider the following:
Keep a close eye on cash flow.
Costs associated with raw materials, production time, tooling, assembly, prototyping and transportation should all be considered carefully no matter what stage you are in the roll forming process. These early considerations will help you better scale your operations.
How you amortize your costs over time depends on how you adjust your forecasts as needed. Spreading out your tooling cost investment will lessen the immediate impact of set-up costs, stabilizing cash flow.
Collect feedback from your team.
From engineers and operators to high-level executives, the roll forming process can be influenced by a number of different team members. Seek out feedback from your team to help foster a closed-loop system of continuous improvement.
The goal of continuous communication, feedback and the formation of cross-functional teams is that the influx of new parts does not scale beyond the limits of other functions.
Track inventory and storage space.
With a production schedule that calls for larger-volume projects, you may choose to increase your inventory of other parts. As you start to evaluate your inventory management plan, consider all your options.
Consider the benefits of offsite inventory management and storage. The first and most obvious benefit is increased storage space. With an off-site inventory management partner, you can reduce the amount of under-roof storage space and the associated labor costs to manage it.
Regardless of where you store your inventory, it is crucial that you maintain close tracking. Millions of dollars are wasted each year on unused materials, promotional products, packaging, etc. By keeping comprehensive, real-time inventory records, you can have full supply chain transparency and eliminate waste.
Partner up.
Whether you just began purchasing roll formed product or you have years under your belt, it always helps to align your department with a strategic, knowledgeable manufacturing partner that will help take your business to the next level. Contact American Roll Form Products to learn more.
Photo Credit: American Roll Form Products