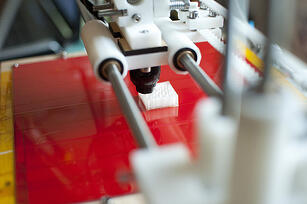 Burgeoning technologies, healthy markets and innovation are all responsible for 2014 being a good year for U.S. manufacturing. According to the December 2014 Manufacturing ISM Report On Business, manufacturing continues to experience growth.
Throughout 2014, we took note of many shining examples of innovation in manufacturing across a variety of industries such as aerospace and energy. Below we highlight the three innovations that stood out from the rest.
NASA Develops Multi-Metal 3D Printing Process
Researchers at NASA's Jet Propulsion Laboratory (JPL) have developed a new 3D printing method that takes the standard 3D printing process and adds the ability to change the composition of a part's material in real time, resulting in printed objects with layers of different materials.
There are two main benefits to the development of this new 3D printing process:
It allows engineers to test the metallic properties of new alloy compositions.

It allows engineers to take advantage of the differing physical properties of two or more metals in one solid component.
Google Doesn't Need Drivers For Its New Cars
Although still in the prototype phase, Google's new driverless car is sure to be a game-changing innovation for the auto industry.
The current model, a two-seat prototype, does not have a steering wheel, brakes or pedals, and can only travel up to 25 mph. But its capabilities are likely to change the way we travel forever. Just imagine the possibilities:
Don't waste any more time trying to find the perfect parking spot. Your Google car will do it for you.

Texting while driving? Not a problem if you're in a Google car. You can text all you want while your Google car drives you all around town.

Headed out on the road for a long trip and you're exhausted? Take a nap while your Google car takes you from point A to point B.
GE Appliances Launches Innovative Manufacturing Community
In the spring of 2014, General Electric announced the launch of FirstBuild, an online and physical community designed to drive innovation and collaboration in home appliance manufacturing. FirstBuild's micro-factory in Louisville is the byproduct of a partnership between GE, the University of Louisville and Local Motors.
One example of FirstBuild's groundbreaking projects is LineCook, which took home first prize for Best User Experience at a 2014 "hackathon."LineCook is an oven concept that was born within the walls of FirstBuild and imagined by LVL1, a Louisville hackerspace.
The oven uses an embedded barcode/QRcode reader on a wall oven to scan a product and deliver cloud-stored cooking instructions to the oven's control panel. The smart oven automatically sets the time, temperature and preferred cooking method (e.g. broiling, baking, roasting), so the consumer doesn't have to.
Whether creating appliances that never under- or over-cook food, or space-saving, no-stall food disposals, the main benefit of GE's FirstBuild community is its dedication to innovatively solving consumer problems related to manufactured products.
The past year has shown that there remains plenty of opportunity for technology and innovation in manufacturing. We are looking forward to what 2015 has to offer!
Want to know about the predictions and observations we have for the manufacturing industry in 2015? Read Looking Ahead: 2015 Predictions for Manufacturing.
Image Credit: Zach Zupancic via Flickr