American Roll Form believes that environmental sustainability is an admirable and achievable goal for the manufacturing industry. We've seen firsthand how production improvement and product innovation can reduce raw material and energy consumption, often while cutting weight and cost in the process.
Technology presents new opportunities for elongating equipment lifecycles and achieving new means of production. Below are leading innovations that are bound to make the manufacturing industry more environmentally responsible.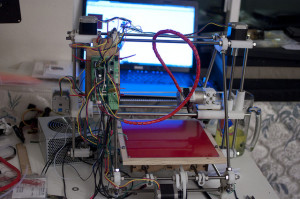 Image Credit: Zach Zupancic via Flickr
Evolving marketplaces
Emerging online B2B marketplaces like Asseta, where companies can sell used manufacturing equipment, are breaking the mold of equipment transaction. The online marketplace seeks to disrupt the manufacturing industry, which previously relied on middlemen and traditional auctions for used equipment offloading. Through Asseta, sellers can create their own equipment listings with the make, model, year and description, paying a minimal 5% - 10% transaction fee.
Asseta creates a new revenue stream for producers, and extends the life of still-functioning equipment. The company, which raised a seed round of funding of more than $500,000, sets a precedent for innovative, VC-backed tech projects, which bodes well for the pursuit of similar ventures.
Remanufacturing
Similarly, remanufacturing extends the life of equipment through the repair and refurbishing of parts so they operate like new. Remanufacturing does away with the one-way, non-circular processes of the past, embracing a zero-waste, circular economy model.
High value, durable products such as machinery and engines lend themselves to remanufacturing. The concept has gained traction as a job creator while achieving greater resource efficiency.
Additive manufacturing
More commonly known as 3D printing, additive manufacturing presents a host of new opportunities for the industry. Additive manufacturing uses a specialized printer that layers thin material to create solid, three-dimensional products.
Additive manufacturing requires fewer tooling parts and materials, reducing raw material use and improving supply chain efficiency. The process also removes the limitations of traditional manufacturing—product melded with technology and innovation. Design engineers, equipment technicians and innovators are more connected and collaborative than ever before, to the benefit of the company, their customers and the industry at large. In short, it's an exciting time to be in manufacturing.
Afraid you can't keep up? Learn how to stay ahead of the technology curve and improve time-to-market.