We have been keeping a close eye on the agriculture industry over the past year. Below are some of the trends and economic forces we think will impact agricultural equipment manufacturers in 2014.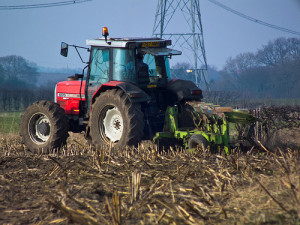 Photo Credit: Keith Laverack via Flickr
Equipment replacement cycles are shortening.
The decision for farmers and agricultural equipment retailers to purchase new equipment is based on a variety of factors, including the age of current equipment and the need to update equipment capabilities. Depending on an owner's tolerance for change, equipment can be replaced on a regular, scheduled cycle.
But as the industry continues to evolve and experiences technological advances, both in seeding and application equipment, replacement cycles will likely shorten.
According to the 2012 CropLife 100 survey, 86% of respondents said they planned to buy new equipment for their outlets during the coming year. By September 2013's survey, agriculture retailers planning to purchase new equipment in 2014 had grown to 88%.
Instead of farmers and retailers maintaining equipment for five to eight years, trends suggest that agricultural equipment will be replaced every three to four years. As time goes by, that replacement cycle will continue to shorten, thus affecting the output that equipment manufacturers will be expected to produce.
Technological advances are changing the industry.
Technology is rapidly evolving the agriculture industry. Below are examples of technological advances in agricultural equipment:
John Deere Machine Sync facilitates machine-to-machine communication between any combination of tractors and grain carts. The Machine Communication Radio system creates a high-speed wireless network that allows up to ten different machines to communicate to each other. This type of technology can help automate in-field activities, cutting wait time and fuel consumption without reducing harvesting speed.
Fendt GuideConnect allows one person to control two machines, as long as they are performing the same task. A guided, unmanned tractor can follow a guidance vehicle when performing the same operating procedure, increasing operational efficiency in the field.
The AirSep uses a perforated conveyor base and an uplift airstream to gently separate harvested crops from stones and earth. The AirSep increases output, minimizes manual sorting, and allows farmers to reduce cost-intensive land preparation before planting.
Global population is increasing, along with food demand and crop yield.
With the global population now more than 7 billion people and counting, food demand is on the rise with no signs of slowing down. The population continues to grow by 82 million people per year. Currently the rate of population increase is 1.2% per year, which means the human population is on track to double again in 50 years.
As food demand increases, so does the expectation for increased crop yields. The major challenge across the agriculture industry is not only preparing for this growth, but also sustaining crop production at such a high level.
The big question remains: Can farmers increase crop yield while still maintaining the overall nutritional value of food? Can they push growth while avoiding the use of harmful chemical crop protection products?
Recent advancements in agricultural production have started to pave the way for improved performance tactics and environmentally friendly practices. Advances in chlorophyll meters, crop yield prediction models and variable rate technology (VRT) are helping farmers keep up with a swift-moving growth in population and food demand.
To more learn about how changes in consumer behavior are driving agricultural equipment demand, read "Agflation and Shifting Agricultural Equipment Demand."