As a design engineer, you understand what type of production method is best suited for your design.
You understand that the metal fabrication option you choose can impact design integrity, production efficiency, and, ultimately, corporate profitability.
That may be only half the battle though. You may also need to convince a decision maker, such as a sourcing manager, of the value of alternative production methods such as roll forming, press braking or stamping, and justify why he should choose one of these methods—particularly if it isn't historically how the part has been produced.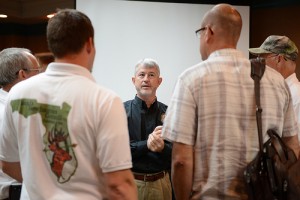 Photo Credit: MyFWCmedia via Flickr
Assess The Scope Of the Project
Your first priority is to select the best fabrication option. In order to make this decision wisely, assess the full scope of the project from start to finish.
Consider the specs—length of parts and strength of material will both play pivotal roles in determining which method to apply. Roll forming can produce parts of any length. Stamping and press braking are both limited in the length of the parts they can produce, and secondary operations are typically needed in stamping and press braking to join smaller parts together.
While high-strength materials can prove challenging for press braking and stamping due to the threat of springback, roll forming can handle such material easily because of its slow forming speed, and tooling can be designed to reduce springback and maintain part integrity.
Gain Executive Buy-In
Once you've fully assessed the scope of the project and have chosen a preferred processing solution, it's time to gain buy-in from the sourcing manager. Below are three suggestions on how to gain buy-in for alternative production methods.
1. Keep it concise.
The sourcing manager may not know the finite details of the specs you've considered, so make sure you are able to relay the high-level benefits of the production method in a clear and concise way, including key pieces of information such as impact on price-per-part and time-to-market.
2. Assess the run length.
If you forecast that there will be a long-term payout for a long run of a product, that information needs to be communicated to the sourcing manager upfront in order to help justify cost. This will also help you and sourcing work together to understand the full timeline of the production process.
3. Understand the full cost.
Cost effectiveness will always be top of mind for both sourcing managers and customers. Understanding associated costs to each manufacturing method is important when seeking executive buy-in.
Costs such as set-up, labor, tooling and secondary assembly activities all need to be considered. Employing Design for Manufacture and Assembly will help you consider these factors early in the design phase.
Keep in mind that none of these are hard and fast rules, but guidelines for having an informed and productive conversation with sourcing. It's important to understand how the bottom line is affected, how executive decisions are made at your company, and how each processing method would impact the end product.
For practical strategies, tips and technologies that can help you achieve greater productivity and engineering efficiency, download:

"The Modern Engineer's Guide To Getting It Done."