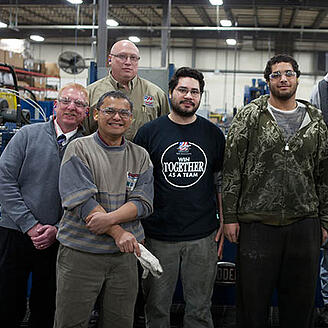 When you hear or see the word "valuable," what comes to mind?
We tend to look at the Merriam-Webster definition of valuable and view it as something or someone who is:
Very useful or helpful.
Important and limited in amount.
A valuable engineering partner is useful in creating effective production solutions and important to the overall strength of your business. Below are an additional five key characteristics every engineering partner should possess.
Collaborative
Consistent collaboration is the driving force for continued efficiency and effectiveness.
With fewer resources available, in-house engineering staffs getting smaller, more complex parts and products to understand, shrinking profit margins and escalating tooling costs, many manufacturing companies are seeking greater collaboration with their engineering partners.
When a section needs to be reevaluated and redesigned, choose the engineer that invites and encourages collaboration with the manufacturer's internal engineering team. Working as a team, you can decide which processes and materials will reduce material content or cut costs. Collaboration is a critical aspect of a project achieving its production goals and reaching its full potential.
Communicative
Your engineering partner should be able to jump ahead of a potential problem before it can derail a project's momentum. If and when a snag in a project comes up, they will proactively communicate the issue and potential solutions. Find a partner that maintains transparency and encourages a healthy, consistent stream of communication. This way, as the customer, you are never left in the dark.
Frequent email communication, company newsletters or website updates also help maintain open lines of communication and make a clear push toward transparency.
Cost-Conscious
Many different costs are associated with your supply chain operations, including inventory, material and tooling costs.
Partner with those that adopt a proactive cost avoidance approach in order to avoid future increases in costs and reap long-term benefits such as reduced material, assembly and shipping costs, and minimal holding and handling costs.
Avoiding unnecessary costs along the supply chain fosters a sustainable relationship between manufacturer and engineering partner. To be successful, it is critical that your engineering partner fully understands all aspects of your supply chain operations.
Innovative
There are a variety of metal fabrication processes to choose from. Deciding which process fits your project best is a function of cost and quality: What will yield the desired product for the lowest cost. But to come up with the right solution requires innovation.
Taking an innovative approach to new fabrication projects differentiates value-driven engineering partners from the commoditized competition.
For example, when Little Giant approached us with the challenge of developing a new, state-of-the-art ladder, we had to get creative. We researched different materials and decided on a special aluminum alloy that had mechanical strength properties that were 25% higher than the extrusion grade used on the existing ladders.
We also used the alloy to redesign the ladder's rail sections, creatively configuring a roll-formed shape that added strength without adding weight. When all was said and done, our creative material and design solutions cut considerable weight from the product, saving Little Giant money.
Knowledgeable
The characteristics mentioned above are all important, but knowledge is the most valuable characteristic an engineering partner can bring to the table.
The valuable engineering partner doesn't draw from opinion when recommending solutions; they use their expansive knowledge and experience with different fabrication methods, materials and applications to recommend the best solution for whatever challenge you hired them to overcome.
If you do make the decision to align with an external engineering partner, take the time to consider the characteristics mentioned above. Don't settle for anything short of first-class service and undisputable solutions that positively affect your business.
The best type of valuable engineering partner is a strategic, useful, all-in-one solution provider focused on making your business better.