Karl Elsener first produced The Swiss Army knife in 1891. While technology and consumer needs evolve, the knife's core competency has never changed—an all-in-one tool for whatever life throws your way.
Purchasers, especially for those who manufacture oil and gas equipment, need to react to evolving market conditions and keep a steady flow of parts without running into shortages or surplus.
Because of fluctuating demand, it's beneficial to select a Swiss Army knife supply partner that will provide you with an all-in-one solution.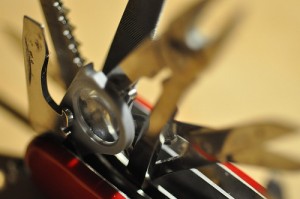 According to Hitachi Consulting's "Six Key Trends Changing Supply Chain Management Today":
"As companies increasingly use their supply chain to compete and gain market share, spending and activity in this area are notably on the upswing. Technology and process upgrades at forward-thinking companies clearly show that supply chain excellence is more widely accepted as an element of overall business strategy and that increasing value to customers is not just management's, but everyone's business."
Contract manufacturing, because it is a long-term commitment with a more comprehensive scope, has the potential to create a more stable supply chain, and one that is more agile in the wake of shifting market conditions.
If you are on the fence about outsourcing your equipment projects to a supply partner, consider the pros and cons:
Pro: Expertise In Capabilities
There are plenty of custom manufacturers that specialize in production processes. If you are an equipment manufacturer that cannot efficiently handle a particular aspect of a production process, you will be better served by outsourcing the production to an all-in-one supply partner.
Before you choose your supply partner, make sure they can excel in a variety of capabilities like roll forming, press braking, punching and stamping, as well as conceptual engineering, assembly and packaging; truly proving to be an all-in-one solution.
Con: The Risk of Underperformance
The primary disadvantage of contract manufacturing is relinquishing control of part of your production process. Outsourcing a project to the wrong company could end in disaster if the partner fails to deliver the expected results.
Poor product quality, insufficient raw material inventory or unexpected delays could result in supply shortages, potentially resulting in losses for your company. That's why it's critical that your business partner with a producer that's committed to quality and has a track record of success.
Pro: Cut Costs
Contract manufacturing allows companies to outsource processes they cannot perform profitably in-house, and long-term partnerships make it more possible to achieve economies of scale. As projects become more complex and the cost of tooling escalates, it is critical that you partner with a company that fully understands the entire production process from prototyping to delivery. Companies need to be certain all aspects of design, fit, form and function work for that product.
But once a decision has been made to outsource, whom do you trust as your supply partner? What qualities of that supply partner do you value most?
We suggest you partner with an all-in-one Swiss Army knife.