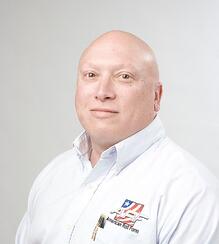 I sat down with our very own Senior Technical Director of Product Development Randy Myers to discuss how the manufacturing industry has changed, key design considerations for roll forming and the importance of selecting a strategic metal fabrication partner. Randy has been a valued member of the American Roll Form team for 30 years.
How has the manufacturing industry changed over the 30 years you've been with American Roll Form?
Everybody is more cost conscious today than they were 30 years ago. The pace of new and emerging technologies has clearly accelerated, lead times have shrunk, product lifecycles have shortened and value-add services have become more sought after than ever before. Everyone wants the most efficient processing method for manufacturing at the best price available.
Fortunately, companies are more open to collaboration these days compared to 30 years ago. With limited resources and smaller engineering staffs, many manufacturing companies are seeking contract fabrication partners to help them enhance product designs using the most efficient processing methods available. Manufacturers look for an experienced vendor that can support them on the engineering side of things to help with design choices and offer cost-cutting recommendations.
Has your approach changed over the years when it comes to evaluating a potential fabrication project?
We as an engineering team have always taken a recommendation-based approach. Once we evaluate a part, we come back to a potential customer with recommendations on elements such as length and weight dimensions or geometry in order to cut costs. But companies weren't as responsive back then as they are now. As I alluded to in the last question, companies seem more open to receiving ideas and recommendations from potential vendors.
With American Roll Form being as diversified as we are now, we can choose the fabrication process that reduces costs, improves design and provides the most value. We don't always feel the need to recommend roll forming, even though it is our core competency.
When you are looking at part design, is there an aspect of the fabricated part that you think roll forming would have the biggest impact on?
We typically look at a variety of different components when we receive an RFQ—the geometry of the section, part length, material and the quantity. For example, if we are quoting a low-volume project, and it looks like something we could do at a lower cost on our turrets and press brake, then press braking is the recommended fabrication method we propose. If the volume is more substantial, then we recommend roll forming because the tooling can be prorated over an entire production run and total cost of the job might end up being less than for metal stamping.
When it comes to tooling costs, we have never taken the stance to give away free tooling because we feel that our customers should own it. Not only does it act as buy-in, but we think it saves them headaches further down the road. This is another example of putting the value-add, consultative approach into action. If our customers don't own the tooling, they end up eventually paying for it. We want our customers to be well aware of the fact that free tooling just doesn't exist anymore.
What geometric characteristics are the best fits for roll forming?
Complex sections with multiple bends that have a lot of features, such as hole piercings and punchings, are great roll form candidates. To fabricate complex parts with multiple bends, other processes such as stamping require a number of hits, and each hit has a charge associated with it. If you choose to punch a complex section, you risk the opportunity of not meeting certain specifications with holes.
With roll forming, multiple bends can all be done through continuous progressions in the roll tooling, cutting out extra costs.
What about assembly? Is that a major factor to consider when choosing the right fabrication process?
Twenty years ago, assembly and shipping were not responsibilities that were usually asked of a vendor partner. But as more and more companies try to avoid holding high levels of inventory, the number of companies asking their fabrication partners to assemble and ship directly to customers is growing.
One of the advantages of taking on an organization's assembly, packaging and shipping is the opportunity it presents to work with other areas of the supply chain. We might be taking a roll formed component and a stamping component, then purchase fasteners, rivets and other components and put it all together. We can efficiently process the entire run for them.
At ARF, we think the future looks bright for custom fabrication partners that shift their go-to-market strategy from a specialty shop to an all-in-one provider that excels in providing a variety of different engineering and supply chain services. Customers who used to look to us to produce the same product over and over again now expect more expertise, more insight and more solutions. Because of this demand, we evolved from a dedicated roll former into a collaborative partner that offers a full range of metal fabrication processes, engineering consulting services, inventory management, assembly and shipping.
To see our four predictions and observations for the future of manufacturing, read "2014 Predictions for the Manufacturing Industry."