Forecasting long-term product demand is a crucial process for any manufacturer.
At a high level of execution, forecasting demand ensures enough product is produced to fulfill orders without creating surplus inventory—a challenge in a world of shifting demand and fluctuating raw material costs.
Roll forming tends to favor high volume production, which decreases costs over time. But longer production runs must be balanced with astute long-term forecasting.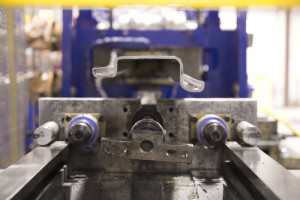 In order to stay ahead of the curve and champion the forecasting process, it is imperative that you develop and implement a supply chain strategy. Below are three strategies for managing your roll formed inventory to more accurately satisfy demand.
1. Identify Impact Factors.
There are a variety of factors that impact your ability to forecast accurately. Knowing these facts in advance can help you plan ahead.
When identifying impact factors, consider the consistency of demand. Think about the level of supply chain visibility you have, and plan accordingly. Brainstorm with your management team, and work with your metal fabricator to develop a long-term production run strategy that aligns with your forecasts.
2. Choose the Right Partner.
Choosing a partner that offers inventory management is one way to reduce impact on cash flow and lower total cost of ownership. A no-cost managed inventory program can save you money by reducing the costs associated with carrying inventory, while just-in-time shipping gives you added flexibility.
Tooling costs can be a large upfront investment that creates cash flow imbalance. Partner with a roll forming specialist who offers no-cost tooling amortization to reduce impact on cash flow and account for unexpected market shifts or forecasting inaccuracies.
3. Examine Product Lifecycles.
Understanding your product lifecycles will help in forecasting demand more accurately. There are two types of product demand forecasting that you can opt to use: macro and micro.
Macro forecasting consists of identifying current market demand and determining how it may change in the future in relation to products. Micro forecasting examines a particular product's share of a specific industry.
A forecast is never static, and should be reviewed by internal management on a consistent basis. A flexible, fluid approach to forecasting is necessary as demands can easily shift based on external factors such as economic conditions, competition and consumer behavior.
Accurate demand forecasting leads to efficient operations and high levels of customer service. The most important you can take as a purchaser in order to improve efficiency and effectiveness is to improve the quality of your demand forecasts.
Photo Credit: American Roll Form Products