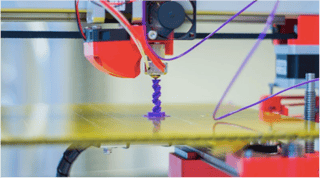 3D printing is the next industrial revolution. The additive manufacturing industry (also known as 3D printing) grew 26 percent to $5.2 billion in 2015, according to a Forbes breakdown of the Wohlers Report 2016. And the market is showing no signs of slowing down.
What does 3D printing have to do with metal fabricators? Think: cheaper and faster prototyping for customized or limited-run parts and accelerated product development.
These are just a few benefits. Find out what else 3D printing has in store for metal fabricators.
Benefits of 3D Printing for Metal Fabricators
3D printing will enable the manufacturing industry to:
Create personalized products according to individual needs and requirements.
Build complex products more rapidly and effectively.
Reduce costs, lead times and labor.
Generate less waste and increase energy-efficiency.
Let's dive into its effects on manufacturing.
Efficient Supply Chain
3D printing reduces the need for prolonged development time, unnecessary tooling costs, or complex product runs. Meaning, maintaining a product inventory is less necessary than it was in years past. With additive manufacturing, whenever you need a product, you simply make it, reducing to its simplest parts.
While this seems like a big change to make, it is important to recognize that by cutting unnecessary time and resources, you can save time and money.
Effective Prototyping
"3D printing has moved beyond prototyping into first-run production, allowing for true market testing and rapid design iteration."
— Rick Smith, CEO, Fast Radiu
Prototyping is designed to take our ideas and make them real. What better way to do that than through 3D printing? In the past, someone would sketch out his or her ideas on paper. From there, it would be hand crafted with either wood, metal or plastic. 3D printing technology has evolved the prototyping process to be faster, less expensive and more precise.
3D printing is opening a new door for prototyping, and companies now have the opportunity to evaluate a design with minimal investment.
Decreased Waste and Costs
With some manufacturing processes, material is formed and cut using a "subtractive process." However, 3D printing is an "additive process" in which materials build upon each other, decreasing waste significantly. 3D printing has the potential to reduce manufacturing costs by $170 billion, according to Environmental Leader, by increasing efficiency and reducing waste.
The Future of Manufacturing on Demand
The 3D printing industry is expected to reap $8.6 billion between now and 2020, and with good reason. 3D printing allows for faster, more effective prototyping, a more efficient supply chain and greener manufacturing practices. If manufacturers, engineers and their partners in product design and fabrication can learn how to adopt this revolutionary technology, there's no telling what this could mean for the bottom line.
Interested in saving time and money right now? Download the Modern Engineer's Guide to Getting it Done for more efficient, effective design.