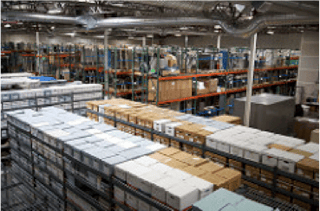 Controlling labor costs can be difficult, especially when you're pressed for time and working with a tight budget.
Labor costs can account for 50 to 70 percent of a company's entire warehouse budget, which is why it's no surprise that there is immense pressure to adopt new cost-controlling processes.
Below, we provide three factors to consider when reducing warehouse labor costs.
1. Engineering Expertise and Redesign
High levels of productivity can offset labor costs, and cutting-edge technology, paired with experts who know how to implement it, can lead to more efficient system redesigns.
Look for opportunities to improve current processes or equipment, and leverage expert knowledge to update and implement more practical components for newer systems. By redesigning complex components that can be produced in-line, companies can eliminate the need for additional components and reduce installation labor costs.
2. Automation
Implementing new automated processes can also help to control labor costs. Automation eliminates the need for human capital, lowering headcount and ultimately reducing labor costs. Additionally, automated systems are programmed to complete tasks in a fraction of the time with fewer errors, expanding production capabilities and improving efficiencies to further offset labor costs.
3.
Strategic Partnerships
Two heads are better than one when it comes to controlling costs, which is why a strategic partnership may help you achieve your goals quicker. The right partner should complement your company's strengths while satisfying the following criteria:
Educates employees and contributes expert knowledge.
Implements the latest technology available.
Pushes the boundaries of engineering possibilities.
Rapidly deploys its team in projects.
Works within your budget and meets all deadlines.
Cost-Cutting Solutions for Warehouse Companies
Hynes Industries has partnered with warehouse automation companies to develop effective cost-cutting solutions in design, tooling and fabrication. Download the Warehouse Automation: Cost-Cutting Solutions Case Study, and learn how Hynes helped one warehouse automation company slash labor costs in half.