Communication is essential to any business' success.
Improving the effectiveness of your company's internal communication paves the way for better product design, strategic product lifecycle management, agile manufacturing and more accurate forecasting.
Not to mention that if internal communication is lacking, you run the risk of disjointed and inefficient operations and a disengaged corporate culture, both of which can lead to a negative customer experience.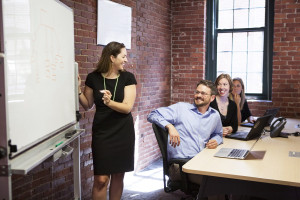 Image Credit: HubSpot
Through a combination of strategic planning, a driven management team and the technologies we've adopted, we have created a business environment that fosters effective internal communications. This has allowed us to merge operational functions and roles to improve product design and uncover innovative cost-cutting opportunities.
But we also understand that internal communication is an ongoing process. Below are four strategies that we believe will help you improve internal communications:
1. Audit the status quo.
Whether you are in a management position, part of the HR department or an employee willing to champion the idea, improving communications starts with conducting an internal audit.
The first step is to get the leadership team on board with your internal communications vision. Once you have buy-in from management and board members, follow these steps:
Gain an understanding of the current level of internal communications.

Ask how employees prefer to receive information (i.e., email, newsletters, face-to-face meetings).

Identify the types of information that needs to be communicated (e.g., operational status updates, financial standings, new hire announcements, etc.).

Create a process around the methods, individuals and timeline used to communicate news and information.
Effective business communication starts within the walls of your company. Whether announcing new products and services, company-wide initiatives or educating employees about new policies, internal communications should be strategically planned, executed and evaluated.
2. Utilize technology.
Once you've identified the current and preferred methods of receiving information, you can utilize technology to efficiently communicate information internally.
For example, our Customer Relationship Management (CRM) system, Salesforce.com, allows employees to have transparent access to operation-critical information. The software also has a social network component within it, which our marketing, sales and support staff members can use to communicate without filling each other's inboxes.
Email will certainly play a role in your communications strategy, but it should be used to foster open lines of communication—never in a passive-aggressive manner. We utilize a series of form-based email templates to facilitate effective and more efficient communications amongst cross-functional groups. Examples range from safety information notices, to communicating customer concerns right to the teams closest to the solution.
The ever-decreasing cost, and increasing ease-of-use, of video conferencing allows remote teams to work more effectively than ever before. It can also be used to hasten corporate culture dissemination across the business. We encourage the use of video communication wherever, and whenever possible. It is not perfect for every situation, but it certainly makes our quarterly meetings across geographically-disparate sites more interactive, and the message more effective.
3. Stay open to feedback.
Internal communication strategies should be somewhat flexible. Be open to feedback from your colleagues, as they will ultimately help shape best practices within the organization. Make it very clear to all employees that feedback is welcome and helpful.
We suggest implementing a clear process that allows staff members to suggest methods and ways of communicating messages. Create a culture that supports the giving and receiving of feedback when it comes to internal communications.
4. Test and evolve.
Continue to test your internal communications plan and adjust as needed. Changes in product/service offerings, personnel, target markets and available technologies will all affect your internal communications strategy. Consistently test and evolve your communications processes to ensure your best foot is always forward.
For practical strategies, tips and technologies that can help engineering teams improve communication and efficiency, download:
"The Modern Engineer's Guide To Getting It Done."