Traditional customer service models are reactive in nature, relying on customers to initiate interaction.
But the business world has evolved. Existing customers are your greatest source of recurring revenue, growth opportunities and new business referrals. Customer experience is everything, which means mastering customer communications and loyalty is key to survival.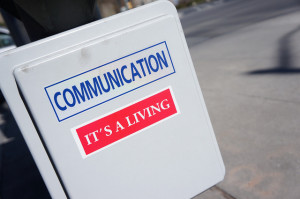 Image Credit:Jon Fingas via Flickr
Below are three keys to improving customer communications and loyalty:
Be proactive.
Proactive customer communication is vital to maintaining and improving a customer's lifetime value, by laying the groundwork for trust between you and your customers.
For example, if your pricing model changes, send out an email to all your customers, make note of the changes in a company newsletter and update your website accordingly. Invite customers to reach out to you if they have any questions.
This is just one example of jumping ahead of a potential customer complaint or product issue. By being transparent with your customers, you encourage a healthy stream of communication back and forth.
Hire with customer service in mind.
Customer service is not just a tagline at Zappos—it's a business strategy that CEO and Founder Tony Hsieh nurtured since day one of the company's existence. In fact, 75% percent of Zappos' orders come from repeat customers.
No matter what role they fulfill at the company, employees should always act as an extension of the company and its values. Every member of the company should possess the ability to serve and satisfy the customer. When hiring for open positions, keep customer service characteristics, such as communications skills and professionalism, a high priority.
Emphasizing high quality customer service helps improve your customer relationships and increase loyalty.
Utilize technology to communicate across channels.
In today's business world, technology plays a major role in supporting customer service and customer communications activities. A company's website and its social media accounts are now direct extensions of sales, marketing and customer service departments.
Website usability is key to the online first impression. Design your website to ensure that visitors can click through the site as easily as possible. Make sure the "Contact Us" call to action is visible and clear and that contact forms are simple and easy to fill out.
Monthly newsletters can be emailed to customers to update them on new products, services and company announcements. Social media channels like Twitter, Facebook and LinkedIn allow you to directly engage with customers.
Leverage customers to drive revenue.
Word of mouth starts and ends with your customer base. Positive word of mouth is still a powerful asset to accumulate and build upon in what is becoming an increasingly impersonal business world.
"Social Voice" is a term defined by MarketShare as both online and offline word of mouth. MarketShare and Keller Fay Group found that Social Voice has a measurable, direct impact on sales and a driver of online search activities.
Effectively communicating with your customers will increase your chances of earning positive Social Voice. Leveraging positive Social Voice through testimonials, case studies and referral programs are all effective ways to drive revenue.
But communication shouldn't just stop at the customer. Internal communication is also essential to any business' success. To learn more about how to improve communications within your organization, read Strategies to Improve Internal Communications.