The pace of technology continues to accelerate, and mechanical engineering is no exception.
Are you ready?
With new designs, tools and tech coming out constantly, engineers must adopt new skills to keep up. Fortunately, there are a variety of tips and tools that are designed to help you accomplish more, faster.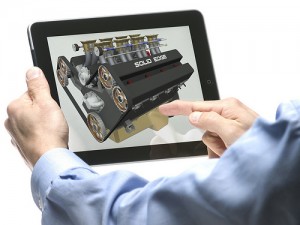 Photo Credit: Siemens PLM Software
Below are some strategies we've put together to help you keep pace with an evolving mechanical engineering world and dominate the design process.
1. Create more with less time.
Time is your most critical and limited resource. Embrace the tools and technology that allow you to create more with less time.
Google's Engineering Cookbook is a convenient reference guide for mechanical engineers. It provides quick access to frequently needed information such as design formulas and conversion factors. The best part is, it's an app that works on any Google-supported device.
Relatively new to the market, Tinkercad is a browser-based 3D design platform that helps you quickly turn ideas into functioning CAD models. Shapes are the basic building block of Tinkercad. You can work with pre-existing shapes or import your own. From there, you are given the ability to adjust, combine and even design physical models for manufacturing.
2. Collaborate and sync.
Real-time collaboration is especially pertinent if you are part of a design engineering team. Software systems like GrabCAD Workbench allow you to collaborate privately with anyone, anywhere. GrabCAD also allows you to share CAD files instantly, even if you are away from your main workstation. The GrabCAD mobile app gives you access to your projects on your mobile device or tablet, keeping you productive on the go.
Sketchfab is another great technology tool to consider. Sketchfab is a web service tool that allows you to publish and display interactive 3D models both privately and publicly. It is a web-based tool, so there is no software plug-in required (which might make your IT team happier). Plus, Sketchfab allows you to upload models directly from 3D software and forums.
3. Script for success.
One of the NFL's all-time great coaches, Bill Walsh, came up with an effective way to clear the mind and make critical decisions. In his book, The Score Takes Care of Itself, Walsh describes the "scripting" strategy as a way to plan for various situations his team might experience during a game.
Walsh would regularly create scripts, or contingency plans, for how to respond to all types of game scenarios. The value of this strategy is fully realized during the decision-making process. By scripting for various situations you and your design team might face during a project, you will effectively minimize distractions so that you can fully focus on significant project decisions.
There are plenty more tips, tools and technologies out there that can help you keep pace in an evolving world. The first step in the journey to becoming productive is to start taking action.
To learn more about how to increase your productivity, stay ahead of the curve and dominate the design process, download:
"The Modern Engineer's Guide To Getting It Done."