The Hynes Industries team just returned from Solar Power International, the solar industry's premier, comprehensive, educational conference and product exhibition. SPI brings the full range of industry ideas, experts, professionals and information together in one event.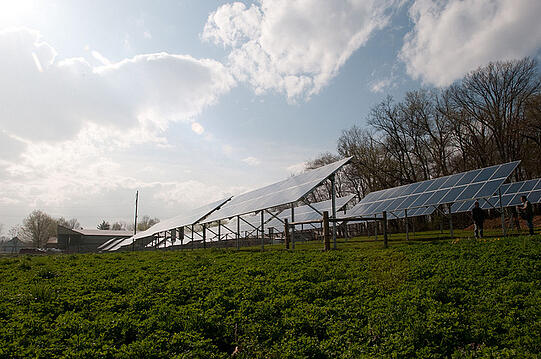 More than 15,000 solar energy industry professionals, representing dozens of countries around the globe, came together in Las Vegas, Nevada, just miles from Hynes' roll forming and metal fabrication facility in North Las Vegas. Below are a few highlights and top news that emerged from the show.
The Fight for Tax Credits Ramps Up
The Solar Energy Industries Association (SEIA) launched a campaign to extend the 30% solar investment tax credit, which is scheduled to be reduced in 2016.
Solar has exploded since the ITC went into effect, growing from an $800 million industry to a $15 billion industry. SEIA expects the industry to install 20 GW of solar in the next two years, which equates to a greater capacity installed each week than in the entire year of 2006.
The importance of government influence over tax credits and regulation echoes conversations had in the last #SolarChat conversation.
A Hard Look at Soft Costs
Solar professionals refocused their efforts on reducing the "soft costs" of solar installation, which include supply chain costs, installation labor, permit fee and permit-related expenses.
Solar panel prices are steadily falling, pushing cost-reduction measures upstream. As a result, solar panel and mounting manufacturers must find new ways to cut costs and stay competitive. Proactive cost reduction measures take a holistic look at supply chain inputs and outputs, which can help solar manufacturers cut expenses and increase profit margins.
Pam Cargill discusses one aspect of soft cost reduction, value-add versus non-value-add processes, in a Solar Power World guest post.
Solar R&D Expands
U.S. Energy Secretary Ernie Moniz used the SPI platform to dedicate $53 million in funding for 40 research and development projects through the SunShot Initiative. The R&D projects will focus on reducing hardware and non-hardware "soft costs."
The announcement underscores the industry's key priorities of cost reduction and more rapid expansion, particularly in residential solar.
Did you attend SPI? What were your highlights?
Image Source: U.S. Department of Agriculture via Flickr Creative Commons