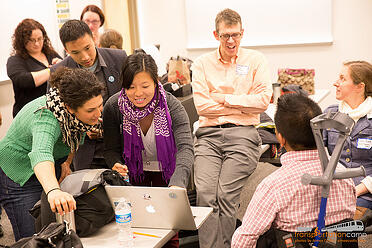 The future of the manufacturing industry rests on the shoulders of the millennial generation. As a member of the millennial generation myself, I feel it is important to talk about how we as employers can empower, and utilize the strengths of my fellow millennials.
According to a recent study from the U.S. Census Bureau, by 2030, more than 20 percent of Americans are projected to be 65 years old and over. This wave of retiring Americans will breed a significant demand for technically trained millennials—those currently between 19-32 years old—to fill available positions in manufacturing companies across the country.
Drawing top, young talent to your company and understanding how they work can be challenging. Below we provide suggestions on how to attract millennials to work for your company.
1.
Maintain an innovative, collaborative culture.
Whether you are looking to attract young design engineers, motivated salespeople or administrative assistants, an innovative and collaborative company culture is imperative. Regardless of title or clout within the company, cultivate a work environment where every employee feels heard and opinions are considered.
Group collaboration, consistent brainstorming sessions and a strong emphasis on the importance of communication encourage innovative thinking and drive a healthy work environment. Striving for the inclusion of different thought processes and removing some generational biases can prove very helpful in reaching innovative business outcomes.
2.
Encourage work-life balance.
Balance in life is not easy to maintain, especially when starting a new job. Many traditional companies believe in the "any means necessary" approach to completing work and reaching business goals. But study after study affirms that millennials value work-life balance.
If you want to attract talented millennials, analyze your current policies and procedures to identify opportunities for flexibility and compromise. Many millennials are unconvinced that excessive work demands are worth the sacrifices to their personal life. That doesn't mean they don't want to work hard or aren't willing to compromise. Instead, they crave work-life balance and will work hard for employers that partner with them to achieve it. Give them some say in how and where they work, and you might be surprised by the results they deliver.
3.
Invest in technologies and build processes around them.
It is no secret that millennials are tech-savvy. They expect employers to provide access to tools for efficient collaboration and execution. In today's manufacturing landscape, it's becoming more crucial to integrate technology into the workplace and utilize it to give workers more flexibility and increase efficiency.
For agile engineers, software systems like Maple, Oracle Agile PLM, and Verisurf CAD help make the most of every minute. New apps and software solutions such as Mechanical Engineer and GrabCAD Workbench foster a variety of design and production possibilities for young engineers. Consider incorporating cloud collaboration systems like Egnyte, Box, or Dropbox to make sharing of content easier, and more accessible from wherever they are and on whatever device they are using at the time.
4.
Provide consistent, constructive feedback whenever possible.
In the past, an annual review was considered enough for consistent, constructive feedback. Today, as more millennials are becoming an integral part of the manufacturing industry's future, providing consistent and constructive feedback is essential. Most millennials are on a mission to constantly improve and feedback helps them do so. I have seen this desire for feedback occasionally mistaken for a constant need for acknowledgement, however, if you treat it as an opportunity for continuous improvement and open communications it can become a significant positive.
Take a proactive approach to feedback. Schedule quick, weekly one-on-one meetings to discuss wins, losses and challenges. Plan for monthly or quarterly performance reviews. Make sure that successes are rewarded and areas of improvement are specifically identified.
Attracting millennials to your business comes down to understanding what they value. If you take the time to understand what they want and how they define career success, then you give your company a great chance at hiring promising young talent.
To find out more about the qualities we believe reflect the manufacturing leaders of tomorrow, and what companies can do to attract them, read Who Will Be The Next Generation of Manufacturers?
Image Credit: Aimee Custis via Flickr