"To improve is to change. To be perfect is to change often."
- Sir Winston Churchill
Although a product may never be truly perfect, it certainly can be improved.
Proactive part analysis methodically analyzes a part's original design to determine how it can be improved, whether through material, geometry or assembly.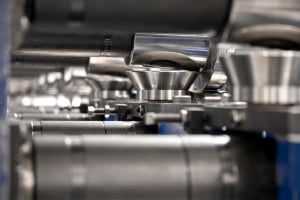 Through careful evaluation of a part's material, interaction with other parts, design, function and performance, proactive part analysis can identify ways to reduce costs.
Before you start a production run, consider the three potential benefits of proactive part analysis and part redesign listed below:
1. Improve Efficiency
Assembly and processing take up a significant amount of time during production. By proactively evaluating the parts of a product, you can increase efficiency by producing more parts with shorter lead times.
As was the case with one of our customers—ARF and Canadian supplier Samco Solar worked with our customer's engineers to develop an in-line threading solution that would automate the extrusion and threading process. It allowed the line of extruded parts to run faster with no human labor needed.
2. Enhance Design
Proactive part analysis can identify areas of a product's design that can be improved. Once an improvement area is identified, prototyping can be used to test and provide final design analysis.
When Chamberlain came to us with a need to redesign its lifting device, we conducted section modulus studies and finite element analysis computerized models of the existing section to study the section, and its strengths and weaknesses.
ARF engineers were successful in designing a lighter structural bar section with the same strength as its heavier, thicker and more expensive predecessor.
3. Reduce Costs
By analyzing two parts and reengineering them as one, unneeded features can be eliminated and additional fabrication expenses can be cut.
Relatedly, redesigning a product to drop gauge while maintaining strength can reduce material content and overall weight—trimming material, shipping and inventory costs.
The Economics of Prevention
Investing early in the design phase pays dividends later on in the production process. Improved designs can result in significant reductions in weight and material gauge, which reduce raw material, processing and shipping costs down the line. Proactive part analysis catches problems sooner and saves your company from spending on inefficient processing and unneeded part elements.
American Roll Form's comprehensive and consultative approach to metal fabrication saves our customers money by looking at all aspects of the manufacturing supply chain.
To learn more, read 3 Cost Benefits of Conceptual Part Engineering.