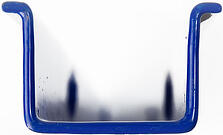 People interact with roll formed products on a daily basis, but rarely realize it.
The metal trim on your cubicle—roll formed.
The steps on your ladder—roll formed.
The stainless steel grill bars on the truck that just passed by—roll formed.
There are hundreds of roll forming applications around you. Below we focus on three industries with commonly roll formed parts: transportation, HVAC, and consumer products.
Transportation
The transportation industry is stable and poised for growth in 2015.
With many different vehicle components being produced, roll forming is an alternative production method that offers great benefits to the transportation industry.
Because of its ability to consolidate multiple manufacturing steps into one operation, roll forming is a prime candidate for high volume transportation components with complex geometry, edge conditioning requirements or long lengths. Roll forming transportation applications include:
Bumper beams.

Crossmembers.

Decorative grill bars.

Rail tracks.

Seat tracks and frames.
HVAC
HVAC parts are cut, formed, drilled, punched, and/or bent in some shape or form. These steel parts are typically produced in several different lengths and in high volumes.
Luckily, roll forming uses a single, in-line process that efficiently creates any length and at high volumes. It leaves reduced drop-off and scrap while still supporting the multiple sizes and configuration of HVAC products. Overall, it gives the ability to form complex linear parts in one pass, reducing tooling costs and production time. Some of these products include:
Refrigeration shelving.

Unit fascia components.

Ducting.

And filter channel section.
Consumer Products
Walk through any home improvement store and you could find a product that has roll formed parts.
Roll forming produces some of the most common metal products used on a day-to-day basis. It is so commonly used because it is a continuous, high-volume product that is cost-effective. Below are a few examples of roll formed consumer product parts:
Bicycle rims.

Door handles.

Door trims.

Ladder rails.
What you can find in roll formed consumer products are materials that are lighter in weight, more accurate and uniform, cheaper, and produce less scrap.
Roll forming is all around you. The applications we discussed about above are just a few of many. Want to learn about more applications in other industries? Read 25 Commonly Overlooked Roll Forming Applications.