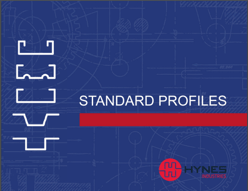 Engineers today face ever-shortening product lifecycles, accelerations in technology, and the pressure to do more with fewer resources. It's time to work smarter, not harder.
Our free engineering guide is now available to download, and can help you save both time and money. Engineering drawings and section modulus requirements expedite product development and optimize designs for roll forming, reducing costs lost to scope creep, material costs and unnecessary design complexity.
Design for Roll Forming
Roll forming continues to prove its application across industries, due to its ability to fabricate custom shapes that are light and strong, eliminate secondary operations and achieve economies of scale. Product designs should be reevaluated in order to maximize roll forming's benefits.
Key considerations when designing a roll formed part include:
Geometry. Take advantage of roll forming's ability to form uniform cross sections.

Length. Consider how the product will be impacted by coil-fed processing to maximize yield and reduce drop-off.

Material. Most coiled material can be roll formed, and in many cases, aluminum extrusions can be redesigned using lightweight steel.

In-line processing. Redesign parts to utilize roll forming's in-line processing capabilities.
Our guide includes standard roll formed profiles that can be easily inserted into many applications.
Hynes Standard Profile Engineering Guide
Increase design efficiency and productivity with our standard profile engineering guide. Engineering drawings for these profiles can help cut down on design time for roll formed products.
Download our guide to view engineering designs for:
2" C-Section

2.5" C-Section

3" C-Section

4.5" C-Section

Z-Section

Standard U Channel

5" Combo U Channel

Standard Hat Channel

Small Hat Channel
All profiles utilize roll tooling already in-house at ARF, helping your organization decrease time to market and lower total cost of production.
Ready to get started? Download the free guide today.