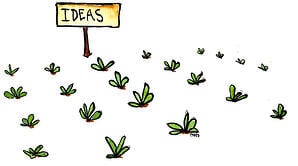 Modern design engineers are forced to do more with less these days—less time and fewer resources, but plenty of expectations.
As product lifecycles shorten and high-volume demand increases, design engineers have less time before going back to the drawing board to develop designs compliant with new specifications, tolerances or materials.
This crunch can easily stifle design creativity. Fortunately, we have you covered. This post will offer several tried-and-true strategies to spark your creative thinking.
1. Subscribe to a Few Idea Blogs.
Engineer says: I'm fresh out of ideas and don't know where to get inspiration.
We say: Check out idea blogs like Springwise, Swissmiss and The Creative Engineer. Although these blogs are not specific to engineering for metal fabrication, they're a constantly updated source of fresh, cross-disciplinary creativity. Discovering new ideas and learning about how others are fueling creativity can go a long way to spark your desire to look at projects through a different lens.
2. Keep Pace Using RSS Feeds.
Engineer says: With little time on my hands, it can be a challenge to stay on top of new engineering technologies, design capabilities and industry news. I barely have enough time for lunch!
We say: First of all, grab a lunch. You deserve it. While eating your delicious lunch, keep up with relevant technologies, trends and industry news by setting up a RSS feed reader of leading trade publications and blogs. We recommend using Netvibes and Feedly.
If you come across any articles that spark a creative thought that you want to reference later, flag them by using a bookmarking tool such as Pocket. Dedicate a couple hours per week to reading the articles you bookmarked. They may serve as the inspiration for your next great idea.
3. Brainstorm Consistently.
Engineer says: Our team's flow of ideas has dried up recently. We aren't committing enough time to sharing and cultivating ideas.
We say: Group brainstorming is an idea-generation activity that is the perfect solution to this common problem. The reality is that many of us get stuck in the "idea mud" once and a while. Dedicating time to brainstorming can provide an engineering team with plenty of potential ideas to consider early in the design phase. Also, consider inviting your supplier to participate in brainstorming sessions, in order to uncover a product design that is optimized for cost and efficiency.
Brainstorming should happen very early in the product design phase, and should be one of the first activities done before diving into a new project. Although schedules and priorities shift regularly, it's important to try to schedule brainstorming sessions when team members are relatively unencumbered by competing priorities and commitments. Work with each other to find the perfect time and then hit the ground running.
Remember to keep track of ideas that are brainstormed. Even if they are not fit for a current project, you can always look back and improve upon the idea in the future.
To learn strategies on how to stay ahead of the curve and improve manufacturing time to market, download The Modern Engineer's Guide to Getting It Done.
Image Credit: Frits (www.hikingartist.com) via Flickr