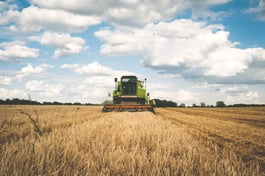 Whether you're ready or not, the agriculture industry is changing. From genetically engineered foods to new harvesting technology, agriculture professionals are finding fresh, innovative ways to work more efficiently. So, what's next for the industry? Below are three of the top trends impacting agriculture in 2018.
1. Innovative Operational Technology
New equipment and innovative technologies are reshaping the agricultural landscape, calling for more advanced, savvy farms to adapt. Here are several inventive methods of farming making their way into the industry:
2. Data-Driven, Precision Agriculture
Beyond efficiencies of scale, another outcome of advanced agricultural technology is data and insights that enhance everyday operations.
Precision agriculture, also known as smart farming, is an approach to farming that uses information technology (IT) to observe, measure and respond to different crop variations, enabling farmers to work land more accurately and intelligently. The collection of extensive amounts of data from concepts like crop yields, soil-mapping and even weather data, provides farmers with more insight into processes than ever before.
3. Agriculture Production Demand
As the population increases, the demand for food also increases. There are currently over 7 billion people living globally and the United States is the third most populated nation with over 300 million citizens. The push for advances in technology and data is due to the ever-growing population.
Apeel Sciences is one company using innovative technologies to protect crops and keep food fresher to lengthen shelf life. Using agricultural byproducts, Apeel is able to strengthen the surfaces of fruits and vegetables, shielding produce from harmful insects or fungi.
As most of the world relies on corn, rice and wheat for food, farmers need to be able to keep up with the growing demand. Whether it's utilizing new technology to enhance operations or developing new innovations to improve food quality and increase shelf life, the population remains the driving force behind these trends.
>> Related Read: Agflation and Shifting Equipment Demand
New technology, techniques and innovations continue to change and define not only the agriculture industry, but all industries, including warehouse and manufacturing trades. Trends like these allow companies to optimize operations and work more efficiently. To keep a competitive edge, professionals must remain open to new processes and ideas for future success.
Download our case study to learn how more about automation and how it can expand production capabilities and reduce labor costs.