The modern manufacturing engineer needs to be agile. Why? Shrinking product lifecycles, supply chain complexity and increasing demands give engineers less time to bring products to market.
Forced to do more with fewer resources, agile engineers rely on technology to solve a variety of challenges across all aspects of production. Below, we highlight four software programs that help agile engineers make the most of every minute.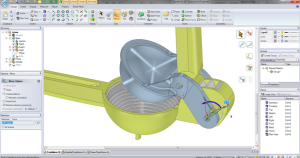 Image Credit: SpaceClaim Corporation
Maple
Maple is the signature software product from Canadian software company Maplesoft. Its CAD Connectivity feature adds analysis capabilities to existing CAD systems. This gives manufacturing engineers the ability to analyze and identify unnecessary aspects of a product design that could potentially increase cost and complexity.
CAD Connectivity allows engineers to retrieve parameters from a CAD drawing and send new values back to be automatically incorporated into the design. Using Maple's programming language and built-in API commands, engineers can also create specialized tools for part reconfiguration and optimization.
Oracle Agile PLM
Oracle Agile PLM is a suite of enterprise software solutions designed to increase efficiency and profitability across the entire product lifecycle. The Agile Product Collaboration feature gives engineering teams the ability to view, manage and share product drawings, documents, changes and bills-of-materials (BOMs) across the supply chain.
Controlling product cost is critical to improve profitability. Thanks to Oracle Agile PLM's Product Cost Management feature, engineers can manage costs throughout the product's lifecycle by synchronizing cost data and processes across design, sourcing, manufacturing and supplier tiers.
SpaceClaim Engineer
SpaceClaim Engineer enables manufacturing engineers to create concepts and 3D designs for digital prototyping, analysis and manufacturing. The software allows engineers to create streamlined workflows for the creation of custom tooling, product fixtures and process plans.
Collaboration and internal communication is key for successful agile engineering. New design concepts and ideas can be shared with other engineers before entering the detailed design phase. Engineers can de-feature and simplify parts for proactive part analysis or manufacturing, and optimize the design without being constrained by original modeling intent.
Verisurf CAD
Verisurf CAD is the core product of the Verisurf's print- and model-based metrology software. It allows manufacturing engineers to import popular CAD formats, create models from blueprints, manipulate large assemblies of parts and interface with a variety of measuring devices.
Verisurf even guides engineers through custom tool building in real time, automates inspection processes for quality assurance, and generates reports in graphic and text formats.
All of these software systems are designed to improve one thing for manufacturing engineers—efficiency. As engineering challenges grow, technology will help you do more with less, stay ahead of the curve and dominate the design process.
For more strategies on how to improve manufacturing time to market, download The Modern Engineer's Guide To Getting It Done.