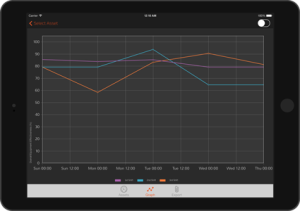 "Lean" is more than a buzzword—especially for many of the manufacturers who put the production philosophy into practice to improve internal systems and processes.
The main principle behind lean manufacturing is to reduce waste of any kind—wasted energy, inventory, resources and time. By cutting out excess waste, manufacturers can decrease operational costs, increase efficiencies and maintain output quality.
Lean manufacturers want to squeeze the most out of every process. Software designed to complement the lean philosophy solves a variety of challenges across all aspects of production. Below, we highlight four software systems that help lean manufacturers "cut the fat" and make the most of every minute.
AutoLean
AutoLean applies automation software to the lean manufacturing approach to provide sustainable and cost effective solutions for all manufacturing needs. In response to the business world shifting to mobile communications, AutoLean provides real-time mobile apps that serve as performance dashboards for iOS, Android and Windows devices. You can even custom-build your own mobile app through AutoLean to fit your business' specific needs, processes and reports.
Along with the software, AutoLean offers technical and consultative services in energy management, project management and software engineering. These more-personalized services can enhance kaizens (refers to activities that continually improve all function)and employee engagements.
Factivity
We are particularly proud to feature Factivity, since its headquarters is based in our backyard, in a nearby suburb of Cleveland. Factivity provides a comprehensive collection of paperless MES modules for leaner shop floor control.
There are three main elements to Factivity's software:
The Time & Attendance Module allows an electronic way for employees to "punch in" using a touch screen, bar coding and biometric readers. From a management standpoint, all time and activities are recorded so payroll labor expense is effectively distributed.
The Advanced Planning & Scheduling Module adds capacity and material constraints to production schedules, assisting with accurate sales orders and forecasting.
The Machine Monitoring Module oversees equipment availability, performance and quality in order to ensure effectiveness. This module provides accurate and timely analysis of various production departments.
SAP
SAP software can help you implement lean manufacturing techniques and processes—such as flow manufacturing, lean planning and execution, and data integration and analytics. Consistently produce the right quality and quantity of products at the right time. And gain better visibility across manufacturing, plant and supply chain processes—for better results at lower costs.
With SAP's own MES software, manufacturers can improve product quality, while driving down costs. SAP's Manufacturing Integration and Intelligence software links manufacturing processes with business operations to enable organizational collaboration and clear visibility.
Vorne
Vorne is a hardware and software solution that tracks productivity of the shop floor in real time and offers a holistic view of its inefficiencies and opportunities to improve efficiency. Vorne offers three models of their XL product—XL800 (flagship), XL600 (midrange) and XL400 (entry level), and is designed to help manufacturers improve efficiency, tap into hidden capacity, reduce downtime and eliminate waste. With Vorne, you can see accurate, automated reports of precise downtime. It also enables you to look at production from the perspective of your top losses. With trend indicators and graphs that convey an entire story in a glance, you can start to improve the areas that are causing discrepancies in manufacturing performance.
All of the software systems listed above are designed to cut waste and boost production efficiency. As engineering challenges grow, so will the technology designed to solve them.
For more strategies on how to improve manufacturing time to market, download The Modern Engineer's Guide To Getting It Done.
Image Credit: AutoLean