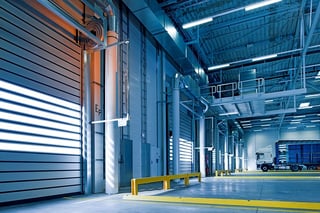 As one of the largest moving structural parts of a home or business, overhead doors must be built with the appropriate components to reduce the risk of accidents. Overhead door suppliers are held to high safety standards, as well as high cost-saving standards—a dynamic that can be difficult to manage. Fortunately, roll forming provides a fast and affordable way for manufacturers to improve product longevity and safety in one cost-effective solution.
We've outlined several ways manufacturers can use roll forming to deliver stronger and safer doors.
The Value of Roll Formed Components
Roll forming allows manufacturers to design heavy-duty components that enhance structural integrity and safety. Unlike other processes, roll forming is ideal for manufacturing doors as it can accommodate lengthy metal panels and linear parts.
Additionally, roll forming allows you to customize components to meet exact design and safety specifications, improving design accuracy and product functionality. Ideal door parts for roll forming include:
Brackets
Hinges
Operators
Tracks
Use roll-formed components to strengthen your design and to ensure doors are manufactured in accordance with all safety regulations.
The Quality of Roll Formed Overhead Door Parts
Overhead doors can serve a variety of purposes, but only if all government-mandated standards are met. That's why manufacturers must pay close attention to UL 325 standards and fire regulations to reduce the risk of door-related injuries, such as entrapment.
In the race to improve productivity, door manufacturers can't afford to cut corners. Poorly manufactured doors can pose as serious threats to employee and pedestrian safety, which is why the ability to produce parts that are up to code is critical for the safety of users. Roll forming components allow you to drop weight and cut time-to-market, while improving the quality and strength of your materials.
Learn Why Experience Makes a Difference
The best way to maximize door performance is by partnering with a reliable metal fabrication company. With more than 92 years of experience, Hynes Industries offers tremendous value to manufacturers and accommodates your specific needs to guarantee you construct the safest products without breaking the bank:
Unique of design experience
Engineering expertise
Capital equipment assets
Interested in learning more about roll forming your overhead door components? Our experts are ready to help you create the most value for your customers.