YOUNGSTOWN, Ohio, April 8, 2022 — In an effort to support its community, Hynes Industries partnered with the United Way and donated more than $9,000 at the end of 2021 to support a number of programs.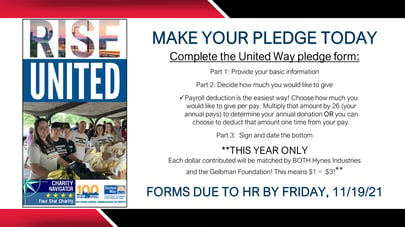 As a part of a United Way Workplace Campaign, Hynes encouraged its employees to pledge during its open enrollment period at the end of 2021. Both Hynes and Columbus, Ohio-based Frank & Pearl E. Gelbman Charitable Foundation promised to match employee donations.

Hynes also had a United Way representative speak at its three locations to share details about the nonprofit, as well as which programs their contributions would support. Employees had the opportunity to donate to a United Way branch of their choice.

Donations from Hynes supported the following programs:
Success by 6: Success by 6 is a kindergarten readiness initiative that partners with 18 school districts. Through this program, students participate in three- to four-week long sessions in the classroom at their respective schools over the summer to jump-start their education and social-emotional development.
Success after 6: This program targets kindergarten to third grade students in six school districts in communities across the nation. It provides students with basic needs from food to clothing, enrichment opportunities with community partners, mentorship programs during day school, and math and literacy help after school.
Imagination Library: Launched in 2014, Imagination Library is a free book program for any child that lives in Mahoning County. Any child that is signed up by their parent or guardian will receive a brand new, age-appropriate book in the mail from birth to age five.
Satur-Day of Caring: An initiative that launched as a result of COVID-19, this program helps address food insecurity issues, especially for those who cannot get to food pantries or the store due to health concerns or a lack of transportation. On the third Saturday of every month, over 100 volunteers in the Mahoning Valley meet to help pack and deliver food to 400 homebound families that need this support. According to the United Way, this initiative—hosted by several United Way branches across the nation—serves around 8,000 people annually.
"We care deeply about the community we live and work in, and this was the perfect opportunity to give back," said Hynes Industries President and CEO Rick Organ. "We know it can be a lot to ask for a pledge, and we were truly blown away by the outpouring of support from our employees. It's a testament to the generosity of the Hynes community, and we are excited to continue this partnership."

Learn more about the United Way and how you can support your community here.

Hynes' involvement with the United Way also led to it receiving the Top New Workplace Campaign award at the United Way of Youngstown and the Mahoning Valley event this year.