Solar panel prices are steadily falling, pushing cost-reduction measures upstream. As a result, solar panel and mounting manufacturers must find new ways to cut costs and stay competitive.
Our free profile guide is now available to download, and can help you achieve both. With these ready-to-use engineering drawings and section modulus requirements, you can:
Cut down on design time, accelerating product development and improving time to market.
Make it easy to compare section properties of hot rolled and cold roll formed profiles, allowing you to select the best shape for your design.
Help you reduce material content and simplify your design, resulting in cost savings along the supply chain—in production, assembly, logistics and transportation.
Our guide includes solar profiles for use in ground pilings, panel support channels, PV framing and module rail applications.
Hot Rolled vs. Cold Roll Formed Solar Profiles
The guide includes drawings and section modulus requirements for both hot rolled and cold roll formed solar profiles, providing a quick and straightforward comparison.
Optimizing product design early can pay lucrative dividends as production volume increases. While hot rolled shapes such as the I-Beam and W-Section are most commonly used in solar mounting applications, cold roll formed profiles like C-Sections and Z-Sections can actually use less material content will maintaining strength tolerances.
Use the included section modulus requirements to see for yourself, and plug the available templates into your next design.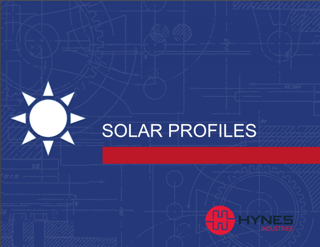 Download the Hynes Solar Profile Engineering Guide
The Solar Profile Engineering Guide includes designs and section modulus requirements for:
2" C-Section*
2.5" C-Section*
3" C-Section*
4.5" C-Section*
Z-Section*
I-Beam and W-Section
*Profiles that utilize roll tooling already in-house at Hynes, reducing lead times and lowering total cost of production.
Interested? Download the free guide to get started.