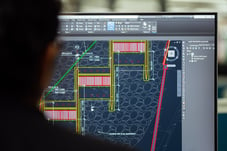 Editor's note: This post was originally published on December 6, 2017 and has been updated for comprehensiveness.
Technology is at the forefront of the engineering industry, as businesses race to be leaders in innovation and offer the latest, cutting-edge products.

With the power to transform the industry, technology introduces innovative ideas, makes jobs safer and more efficient, and unlocks key insights with data.

Because of this, design engineers continually strive to foresee upcoming trends and capitalize on current leading trends.

Below, take a look at five top technology trends design engineers should keep top of mind.
1. A Rise in Artificial Intelligence
In engineering, artificial intelligence (AI) is used to help create designs and optimize processes and systems.

With the help of AI algorithms, engineers can activate autonomous robots that can perform tasks without their guidance. Though the algorithm must be set up by humans, the robots involved are designed to function autonomously, whether it be for assembly, parts selection or other related jobs.

Many manufacturing plants, in particular, are adopting machine vision systems powered by AI to increase production and boost efficiency. Tesla, for example, uses autonomous robots at its Gigafactory in Nevada to transfer products.

Because AI is becoming increasingly popular, it's critical for engineers to begin incorporating this technology into their design processes. Technology is becoming smarter, making it more imperative to beat the learning curve. Staying up to date on all the current smart product designs can help engineers design the most advanced products as efficiently as possible.
2. Improved Safety & Efficiency
Safety has improved significantly, both in the workplace and in the field, thanks to the latest in technological advances. Programs such as AutoCAD, Inventor and finite element analysis (FEA) software enable engineers to replicate production or installation processes. This means safety precautions happen earlier in the process, limiting the chances of product damage or harm to personnel.

For example, some roll forming press lines are set up so that if a person crosses a sensor, or the "safety line," its presses and rollers will automatically stop. Or, using a FEA program, engineers can find out if and when a failure will occur by applying theoretical conditions to a 3D-modeled part.

In addition to improved design safety, engineers have used the same advances in technology to implement lean manufacturing techniques. Greater efficiencies, increased production, manpower reallocation and quicker lead times make businesses safer and more competitive in the market.
3. Adopting Mobile Technology
More than ever, design engineers are using cell phones, tablets and mobile applications in lieu of paper and complex Excel documents to record data and communicate.

They're also using product and design tools within their mobile devices to consolidate data, create and export designs, and more.

A few notable design programs and applications include:
SolidWorks is a solid modeling computer-aided design and computer-aided engineering computer program.
Catia is a software suite used for computer-aided design, computer-aided manufacturing, computer-aided engineering, product lifecycle management and 3D.
Creo is a solid modeling or computer-aided design (CAD), computer-aided manufacturing, computer-aided engineering (CAE) and associative 3D modeling application that runs on Microsoft Windows.
4. Integrating Cloud-Based Technologies
As the use of mobile technology becomes the standard, software is becoming more intelligent. CAD and CAE are becoming cloud based. This transition allows professionals to connect through tablets and mobile devices while relying less on on-premise machines. Cloud-based programs allow engineers to:
Be flexible while working on projects. Cloud-based solutions enable design teams to collaborate on projects together from different locations at any time.
Reduce costs by creating virtual prototypes using CAE instead of physical ones.
Have access to information and store all data in one place.
5. Prioritizing Sustainability
More people are now aware of and concerned about the environmental threats certain products can have on our ecosystem. Eco-friendly products are growing increasingly more popular among consumers. It's important for engineers to design products that are more sustainable and eliminate waste.

Green products also increase profitability. A global study shows 55 percent of consumers are willing to pay more for products from companies that are eco-friendly. Solar energy is becoming a huge industry for engineers who can design equipment like mounts and panels.
>> Related read: 5 Proven Strategies to Reduce the Sky-High Cost of Solar Mounting Products
The engineering design industry is changing because of new innovations in technology and initiatives to make more eco-friendly products. It's critical for engineers to stay ahead of these trends to gain the competitive advantage.
Interested in learning more about technical innovations? Our expert engineers will work with you to create new and creative ways to maximize the potential of your next project.