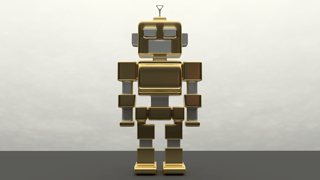 Headlines like "How to Keep Your Job When Robots Take Over," and "Industrial robots will replace manufacturing jobs — and that's a good thing," only serve to confuse us about the future state of manufacturing. Are robots in manufacturing something to be excited or worried about?
There's a lot of controversy surrounding what robots mean for the industry, but the fact remains that it is a growing market. The automated material handling market is growing at a compound annual growth rate (CAGR) of about 8 percent. So if you're wondering what this means for the industry, the economy, or your job, read on to learn more about industrial robots today.
The Roles of Industrial Robots
The roles robots play in manufacturing can vary greatly, from welding to material handling. Some examples of robotics' differing functions related to metal fabrication include:
Plasma cutting
Welding
Packaging
Press tending
Drilling
Painting
Sanding
While robots can often ensure greater productivity and accuracy than humans alone can achieve, they also have their limitations. Humans are still needed to program and monitor these technologies. So where does this leave the future of manufacturing and the jobs the industry creates? And should we be worried?
The Case Against Industrial Robots
If you're a factory worker, truck driver, office clerk or other position-holder whose job is threatened by robots, you're well aware of the case against robots—job security. According to McKinsey & Company analysts, about 59 percent of manufacturing jobs can be automated, due to their predictable physical nature. Furthermore, the study claims that 90 percent of the tasks welders, cutters, solderers and brazers do can be automated.
Currently, only 5 percent of jobs are fully automated. However, this automation has the potential to abolish $2 trillion in annual wages.
The Case for Industrial Robots
Before you lose hope, though, there's another side to the story. No, the growth of industrial robots isn't a lie. It's very real. However, the rise of automation in manufacturing could also give rise to new opportunities and, oftentimes, will ensure safer work environments.
Fortune magazine claims that history proves technology to be a job creator:
"In 1900, 40% of the U.S. labor force worked in agriculture. Today, that figure is just 2%. Yet, the workforce is still here. A recent study found that technology actually created more jobs than it destroyed in the last 144 years – saving many people from dull, repetitive and dangerous work."
With the rise of technology comes a rise in coding jobs, as well as the need for machine builders. Workers' focus may shift from creation to innovation, creating jobs in science, technology and engineering.
For the workers who remain in manufacturing, technology will allow companies to produce cheaper products, which, in turn, could generate lower prices and increased demand. This could also partially offset the threat of industrial robots on jobs while the world refocuses its efforts to innovation.
Moving Forward
We will most likely see a shift in manufacturing jobs, from labor, to innovation and technology in the near future. While manufacturing job loss is inevitable, this will give rise to higher paying jobs for those who are able to shift gears. For those who are not, we may see higher demand for cheaper products, which could offset job loss.
Don't have access to industrial robots just yet? You can still effectively free up time and adopt a more efficient, cost-saving production process with the right resources. Start with this free guide for strategies to improve manufacturing time to market.