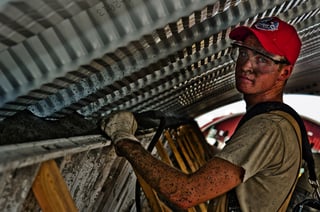 This post was originally published on December 7, 2016.
High volume production, in-line processing and lighter, quality outputs make roll forming an ideal solution for many metal fabrication projects. In fact, roll forming is all around us. The grocery store shelf your gallon of milk came off of, the tracks that open and close your garage door, and the channels that slide your car seat forward and back are all, more than likely, products of roll forming.
Roll forming is a highly stable and efficient metal fabrication technique than can be applied across many industries. Below are a few applications we chose to highlight in solar, agriculture, transportation and construction.
Roll Forming in Agriculture
Agricultural businesses using roll forming have discovered how in-line processes can simplify complex component designs, reduce the weight of machinery and improve in-the-field product lifespan. The ability to eliminate heavy, hot-rolled components and fasteners, and to apply leading-edge coatings for better corrosion resistance, are just a few reasons why roll forming is so attractive to the farming community.
By re-envisioning metal product design, roll forming can give a fresh perspective to a longstanding industry in a variety of applications, including:
Crop farming.
Livestock management.
Horticulture.
Greenhouses.
Shared services distribution.
>> Related Read: Agflation and Shifting Agricultural Equipment Demand
Roll Forming in Construction
In the construction industry, roll forming offers creative solutions to diversify equipment capabilities. Whether consolidating HVAC components to eliminate assembly or redesigning a product to cut wastes, roll forming delivers.
This metal fabrication process excels at reducing weight, decreasing costs and simplifying production in the most challenging fabrication projects, including:
Crane.
Electrical.
Elevators and escalators.
Garage doors.
HVAC.
Ladders and scaffolding.
Security.
Windows and doors.
>> Related read: 4 Ways to Improve Your Next Construction Project with Roll Forming
Roll Forming in Solar
Solar power projects tend to be expensive and complex. In the highly competitive solar market, panel and mounting manufacturers have to be creative to cut costs without sacrificing quality.
However, the cost of mounting components including racking, wire management solutions and more can be reduced through a stable, high volume roll forming process. Roll forming can improve design integrity and reduce a part's costs in applications such as:
Ground-mount racking.
Ground pilings.
Module rails.
Panel support channels.
PV framing.
Roof mount racking.
>> Related Read: 5 Proven Strategies to Reduce the Sky-High Cost of Solar Mounting Systems
Roll Forming in Transportation
The high-volume nature and complex geometry of transportation components make them ideal candidates for metal roll forming. Lengthy components like rail tracks, crossmembers and more can be produced more efficiently at a reduced cost through roll forming's single process fabrication, eliminating the need for secondary finishing services.
A range of materials from steel, aluminum, copper, brass and more can be utilized for durable, versatile products, including:
Rail tracks.
Crossmembers.
Grill bars.
Box truck and trailer shell components.
Truck and railcar frames.
Guardrail beams.
>> Related Read: Why You Should Consider Roll Forming Transportation Parts
Roll Forming in Warehouse Automation
The global warehouse automation market is primed to grow from $182.6 billion to $352 billion by 2024, heightening the pressure to stay competitive with it. To do so, companies must find creative ways to reduce labor costs while maintaining high levels of product quality and productivity. Redesigning parts through roll forming can expand production capabilities, improve turnaround time and cut installation costs. Hynes Industries offers engineering expertise and the latest metal fabrication technology for warehouse automation applications including:
Pallet racks.
Conveyor components.
Overhead track.
Shelving components.
System installation.
>> Related Read: Hynes Industries Warehouse Automation Partnership Yields Significant Cost Savings
What Will You Roll Form?
While press braking or stamping can be better options for low-volume production and simpler components, the demands of the agriculture, construction, solar, transportation and warehouse automation industries are ideal for roll forming.
The above applications are the tip of the iceberg. To help cut down on design time for roll formed applications and save money, download our free Standard Profile Engineering Guide—or contact our team of engineers to discuss your unique project design.
Which applications in your industry could you see benefiting from being roll formed?