Designing for roll forming is in many ways a different process compared to other metal fabrication design methods. Roll forming removes some of the challenges other fabrication methods present, creating design opportunities for:
Products requiring edge conditioning,
Parts with complex geometry,
Long parts,
Redesigned aluminum extrusions and more.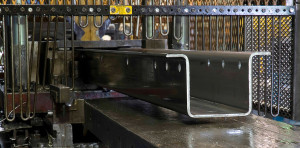 Photo Credit: Hynes Industries
As roll forming proves its applications across industries, unique designs continue to push the boundaries of engineering possibilities. Below are four design aspects to consider for roll forming:
Edge Conditioning
When designing products that require a rounded or burr-free edge, the metal fabrication process used will impact final costs. Most stampers are unable to offer edge conditioning. Service centers might do it, but typically for an added cost.
Roll forming offers the ability to edge condition prior to the forming stage and without adding costs, because it is performed in-line.
Geometry of Design
Some parts are perfect candidates for roll forming just based on their geometry. If a part has too many bends, it can't be stamped. Roll formed parts can be easily bent to produce uniform cross sections.
Through the forming action of roller dies, material is shaped on a long horizontal line then cut to length based on customer specifications. This can be achieved through your fabrication partner's standing tooling catalog, or through custom tooling for unique parts.
Metal Part Length
Roll forming is an ideal method of production for long parts or those requiring a large production volume. It is a stable, in-line process that is capable of producing parts of any length. The only length limitation is the length of the coil being fed into the line, which in turn produces less scrap than sheet metal.
Material
Most coiled material can be roll formed, and in many cases, aluminum extrusions can be redesigned into a roll formed part using lightweight steel. The steel's strength allows you to drop gauge, decreasing weight. The end result of roll forming design is a lighter part with reduced material and shipping costs.
Becoming more familiar with the roll forming process, along with its practical applications, goes a long way toward designing for manufacturing simplicity and success. Before you start the metal fabrication design process, remember:
Think outside the box.
Don't limit yourself to traditional metal fabricated shapes.
Always think in terms of improvement and function.
For more practical strategies, tips and technologies that can help you achieve greater productivity and fabrication design efficiency, download "The Modern Engineers Guide to Getting it Done."
Editor's note: This post was originally published in February 2014 and has been updated for comprehensiveness.