In an uncertain market, balancing your inventory is critical. And when forecasting is a challenge, you need to place more of a focus on keeping production costs low without sacrificing quality.
One of the first things to consider is the volume of the project. Whether your project requires a high or low volume run, you have options as to what metal fabrication process will produce the most efficient returns.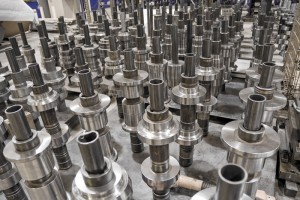 Below we discuss the factors you must weigh when choosing between metal forming processes for the expected production volume.
Metal Fabrication Tooling Costs
First, conduct a tooling cost comparison based on various volumes to determine the best option for a specific application.
Companies with high-volume applications may benefit from a process like roll forming because it has the ability to produce parts needing several operations in-line. For high-volume runs, roll forming has the lowest tooling maintenance costs compared to other processes.
But for low-volume runs, roll tooling may not be your best option. If a slower metal forming process is required, roll lines can become long, and the need for additional tooling can increase the fabrication price.
Press braking is more commonly used for low volume metal fabricating because press brakes can produce parts efficiently at low cost that would otherwise cost thousands of dollars worth of tooling to complete. Combined with a turret, press braking can manufacture small quantities of parts with fewer tooling costs than roll forming.
Available tooling versus custom tooling is another cost consideration. If your metal fabricator has a diverse catalog of standard tooling, this will eliminate the need to produce custom tooling, and substantially reduce costs.
Metal Forming Cost Amortization
If your main goal as a purchasing manager is to spread costs over time to reduce the initial financial impact, the best strategy is to forecast and to forecast accurately. This may seem like a no-brainer, but precise forecasting of overall costs over time requires a learned knowledge of each step in the production process.
For example, understand what labor will cost you from start to finish. Companies that are fabricating sheet metal products may incur large labor costs producing and assembling individual parts. Labor can add up quickly across each and every metal production run.
When volume demands are high, production methods such as roll forming and stamping are well-suited because the per piece set-up and labor costs should decrease as production levels increase.
Raw Material and Product Yield
Many aspects go into deciding what metal fabrication process is best for a project. Although volume varies based on the customer and the need, 5,000 feet of product is usually a good benchmark.
If 5,000 feet of product or more needs to be manufactured, it is advantageous to consider metal roll forming. One thousand feet of raw material will sometimes cost as much as 5,000 feet; in which case purchasing more material and increasing your production run is preferable.
Once you have weighed all your metal fabrication options and considered the potential challenges, save time engineering your designs with the Standard Profile Engineering Guide, which offers designs for nine different needs. Decrease your product's time to market and lower fabrication costs with this free guide.
Photo Credit: Hynes Industries
Editor's note: This post was originally published in January 2014 and has been updated for comprehensiveness.