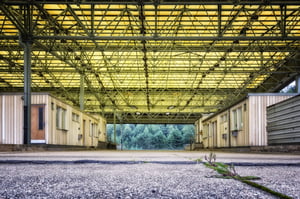 Have you ever been inside a facility and noticed long metal beams across the ceilings and walls?
Those are called Z-sections.
Z-sections are common structural components used for support. These steel struts are typically roll formed because they are used in construction, transportation and manufacturing industries where accurate dimensions are required.
Below we break down the common applications and traits of roll formed Z-sections.
Roll Formed Z-Section Applications
Roll formed Z-sections are common components found in structural systems. Used for mounting and structural support, roll formed Z-sections are like the bones of a facility and strengthen the building's foundation. Some common roll-formed Z-sections are used in:
Mezzanines
Metal Buildings
Fences
PVC-Door & Window Frames
Displays & Store Fixtures
Tool Boxes
Metal Furniture
Storage Bins
Racks
Although roll formed Z-sections are fundamental components needed for various applications, these metal support beams are often separated into two different categories. Read on for the two primary types of Z-sections, roof purlins and wall girts.
Z-Section Roof Purlins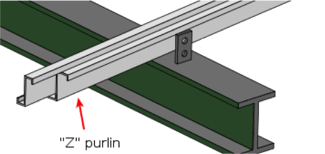 Z-section roof purlins provide additional structural support to warehouses and factories through their distinct design. They create a horizontal diaphragm that holds the weight of the roof and allows for high strength and flexible design—traits that keep structures from caving in due to added weight from snow or roof sheeting. The symmetrical features enable Z-section roof purlins to overlap for additional strength.
Z-section roof purlins are commonly roll formed due to their length. These support beams must be fabricated to seamlessly extend across the roof frame of the building.
Z-Section Wall Girts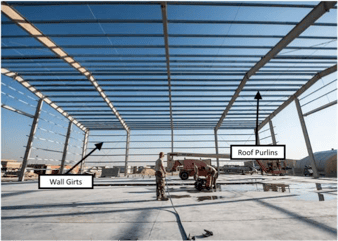 A wall girt is a horizontal beam that supports the metal siding of a structure. Z-shaped wall girts stabilize buildings and provide resistance against wind. The long metal beams transfer wall loads to primary structural units, like columns and pillars, which strengthen the overall frame of the facility.
Roll forming is an ideal metal fabrication process for Z-section wall girts because these beams are lengthy support components that extend horizontally from one primary column to another. Roll forming Z-section wall girts gives you the option to cut slits or holes consistently along the beam for convenient fastening.
Why Roll Form?
Engineers rely on Z-sections to provide support and stability for their structures. This means that every support must be fabricated seamlessly for optimum performance. Roll forming ensures quality, long-term cost-efficiency and the opportunity for secondary processing needs such as punching and stamping.
Need help fabricating your Z-sections? Hynes Industries provides customized roll forming solutions for all of your needs, including:
Design and engineering consultation to identify a cost-effective, functional shape for your project.
Over 70 automated roll-forming lines with in-line punching and stamping capabilities, and a full complement of secondary finishing equipment.
A broad range of materials including hot and cold rolled, hot dipped galvanized, HSLA, pre-painted, vinyl clad and stainless steel. We also offer aluminum, copper and brass.
On-site steel service center with an inventory of over 36,000,000 pounds of prime quality material.
Contact Hynes to schedule a free design consultation for your next metal fabrication project.